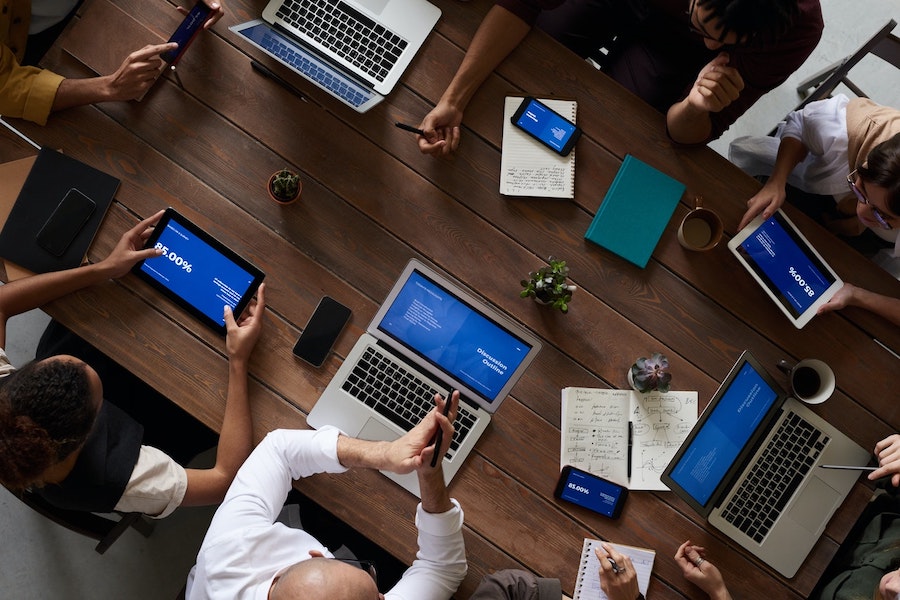 Sales and marketing technology evolves quickly, as it has to. After all, leads are constantly changing their preferences and expressing new needs. That's why it's critical to regularly review new tech stack examples—and update your current software ecosystem.
What Is a Sales Tech Stack or a Marketing Tech Stack?
Sales tech stack and marketing tech stack are industry terms for the software each respective team needs to successfully do its job. A tech stack can be small or large, depending on what you need it for. Even small teams have a few go-to tools. Large enterprises often have dozens of platforms in their sales tech stacks and marketing tech stacks.
It's important to regularly audit your tech stack to decide which software you can let go—and what new options you need to adopt. Adopting new technologies helps you keep up with your leads, who are always adapting the ways they shop and interact with your brand.
We've compiled some new must-have tech stack examples to help you decide where your own stack needs updating.
For Contact Management: CRM Systems
A Customer Relationship Management (CRM) system is your business's source of truth for the entire customer journey. It helps you organize lead information, like contact information and communication history. It also improves your understanding of lead interactions, helping you market and sell your products or services more effectively.
You're probably already using a CRM system if you're a large enterprise. Even if you're a small or medium-sized business, it's critical to start using a CRM system so you can scale easily.  Salesforce and HubSpot CRM are well-known options, but there is a huge variety of CRM systems out there, with many tailored to specific industries.
Your CRM system should be the home base for all of the additional apps, integrations, and APIs you use to run your business. Ideally, all of your apps should have at least a one-way synchronization to your CRM, with data from your CRM flowing to your other tools so you can access the most-up-to-date customer details. A 2-way sync allows your CRM and other tools to speak to each other, updating from both sides (but you can always designate your CRM as the primary source of truth).
For Asset Creation: Graphic Design Apps
Adobe offers powerful design tools. They're a tried-and-true necessity for large brands' marketing tech stacks. But if your team needs great visual assets fast, try one of the newer graphic design apps, like Canva. These tools are intuitive for teams without design software training. They also run through your browser, so teams can easily collaborate on a design. They can help you create sleek designs quickly, especially if you don't have a dedicated graphic designer on hand.
For Campaign Management: Marketing Automation Software
Marketing automation software, like HubSpot Marketing Hub or Marketo, is a must for both sales and marketing tech stacks. It helps you create, manage, and organize content campaigns. For example, you can use it to set up dynamic email campaigns or schedule out social media campaigns. This software will also track marketing key performance indicators (KPIs) for you, so you can determine how successful your campaigns really are.
For Lead Communications: Sales Engagement Platforms
Sales engagement platforms, like Outreach and Salesloft, are particularly helpful for creating automated email campaigns—a must in the sales world. These platforms offer additional tools for analyzing your sales KPIs so you know when you're meeting goals. They also allow you to track team performance so you know what topics to focus future training sessions on. With these platforms in your sales tech stack, you can increase business opportunities, boost team productivity, and meet your goals faster.
For Prospect Communications: Business Texting Platforms
Your leads don't want to look at ads or fill out forms any more. They want to receive engaging content that they can respond to, contact you directly with questions, and chat with real people, not bots. Use business texting platforms to let leads connect with you through a convenient channel they already love. To make contacting you as easy as possible for leads, be sure your platform has an omnichannel messaging API. This tool lets you receive and reply to messages from multiple messaging services (e.g., Facebook Messenger, Instagram Messaging, and WhatsApp). That way, you can answer questions about your social media and SMS campaigns within your business texting platform.
For Webinars and Demos: Video Presentation Software
Video presentation software was part of some sales and marketing tech stacks before the COVID-19 pandemic. It's now a necessity—and a great way to expand your audience. Use a well-tested platform like Zoom to present your industry leadership webinars or give demos to leads from anywhere around the country. Some other emerging contenders are BlueJeans Meetings and GoToMeeting.
For Closing: Online Signature Tools
As you have probably already realized from the previous tech stack examples, nearly every aspect of the modern sales process is online. Most buyers expect the convenience of completing all of their paperwork through the internet. Plus, online paperwork is easier for you to manage and organize. Use an online signature tool like DocuSign to securely request and receive lead signatures.
For Project Management: Internal Task Management Tools
Powerful sales and marketing tech stacks aren't complete without tools to keep projects running smoothly. You need an internal task management tool to make sure you're doing what needs to be done, when it needs to be done. Options like Asana and Monday.com are easy to adopt and scale as your teams grow. They're great for organizing team-specific projects as well as cross-team endeavors.
For Teamwork: Internal Chat Tools
Sales and marketing teams work closely together. That's why you need an internal chat tool to make sure you're on the same page. A tool like Slack or Microsoft Teams is intuitive, acting just like a professional version of your favorite personal messaging channel. It helps you connect with your teammates quickly, organize conversations into channels, and, ultimately, tackle challenges and projects as cohesive teams. You can even integrate Slack with your business texting platform to streamline team collaboration.
The Bottom Line: Tech Stack Examples for a Future-Forward Team
With the right sales tech stack or marketing tech stack, your team can complete tasks, reach goals, and surpass benchmarks more easily. Remember to integrate your sales tech stack or marketing tech stack with your CRM. A streamlined app ecosystem helps you organize and manage lead data as well as outreach campaigns, so you can work more efficiently—and effectively—than ever before.
Want to explore more tech stack examples? Check out our blog.