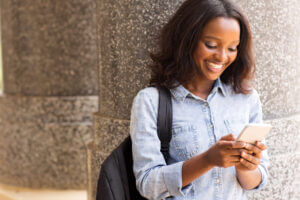 The U.S. is home to thousands of higher education institutions. To stand apart from the crowd, many savvy schools have started to communicate with prospective students through more appealing channels. Finding contactless ways to connect with prospective students has been especially important post-COVID-19, when high school students are less likely to tour schools with their families. 
High school students aren't likely to answer phone calls. And while some may check their email accounts occasionally, some don't even have email addresses. Texting and messaging are their preferred communication channels. Savvy schools have started to adopt SMS for colleges to chat with prospective students—and they're seeing strong results. 
After one year of using SMS for colleges, St. Mary's University reported that 30.8% of prospective students who signed up for their college texting services ended up applying. For comparison, 10.9% of all prospective students applied. Additionally, Georgia State's college SMS service led to a 3.9% higher enrollment rate for texters, as opposed to non-texters.
Read on to learn how to interest prospective students with SMS for colleges. 
Open College SMS Q&A Lines
Prospective students have a lot of questions about your school. In some cases, they may decide that calling or emailing to ask may not be worth the time. If they see that they can just text in a keyword to opt into your college texting services and start sending questions, they are likely to go ahead and ask. That gives your teams the chance to make a great impression and let them know more about your school.
Your school can offer Q&A college SMS lines for:
Admissions.

Prospective students have a lot of basic questions for your teams. What are the average SAT scores of admitted students? Do you have a design major? Route these messages to your admissions team. You can even set up an

auto response

that answers simple questions based on keywords. 

Departments.

Some prospective students are interested in specific departments. Give each department their own

shared inbox

, so they can answer department-specific questions. With the shared inbox, departmental assistants or student ambassadors can answer basic questions, then

assign

more complex questions to professors. 

Extracurriculars.

Extracurriculars, like sports and music groups, are another powerful draw for prospective students. Give each extracurricular department a shared inbox. They can answer questions and send their own content, such as clips of performances or insight into team spirit. 
Be sure to secure prospective students' opt ins before you start texting them. With this opt in, you can answer their questions when they text in—and follow up later.
Host SMS Networking Events
One of the best ways to interest prospective students is to connect them with current students. Inviting prospective students to meet with current students used to be common. Post-COVID-19, it is less popular. But contactless networking through SMS for colleges is an attractive alternative. 
Ask second-year students and upperclassmen to serve on an SMS networking committee. Members can use a shared inbox to see all incoming texts and start talking to those who seem to share interests. With SMS for colleges, prospective students won't have current students' personal phone numbers and all conversations can be monitored for compliance and appropriate language. 
With a business text messaging platform, current students can have a personal conversation with prospective students. Current students can:
Add their signature for a personal touch

Send videos of events 

Include emojis and GIFs
Student-to-student text message conversations are a great way to give prospective students insight into the campus community. These networking opportunities are one of the best ways to convince high school students to apply to your school. 
Keep in Touch
You can send prospective students follow-ups once they have opted in to your college texting services. These texts are an ideal way to ensure your school stays top-of-mind for potential applicants—especially as application dates close in. 
College SMS drip campaigns empower your teams to follow up automatically. Simply add students to a specific campaign, create templated messages with custom fields for personalization, then select when you want your SMS for colleges platform to send the texts. The platform will send the texts on your schedule, using merge tokens to personalize each outgoing message. 
You can send follow-ups after prospective students text in questions or connect with one of your current students. Follow-ups can include:
Check-ins from individual professors or students

New school news, like on-campus opening dates

Deadline reminders
These short messages will keep prospective students interested and invested in your school. 
Wondering how SMS for colleges fits in at your school? Ask our team.