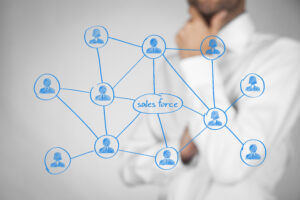 Sales forecasting is only as good as the data that goes into it. This is especially true for customer-centric businesses, who need to understand their customers so they can offer them the most useful products and services possible. With the help of useful technology like Salesforce's customer relationship management platform, these businesses have all the access they need to accurate data. And with tools like a Salesforce SMS integration, these capabilities are expanded even further.
The Salesforce SMS integration is one of Heymarket's most popular SMS integrations, used by customer service and sales teams across all industries. It helps team members connect with customers quickly using the most accurate data available, then report on the results. 
Let's dive into Salesforce and Salesforce SMS integrations—and learn how these tools can improve your CRM app ecosystem. 
Salesforce of the Present
Salesforce is the most popular customer-relationship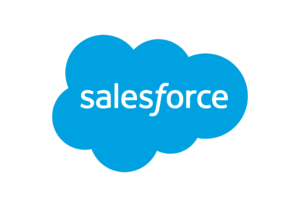 management (CRM) system on the market. Most professionals have probably used it or been exposed to it at least a few times. It helps teams track customer information and interactions. Additional Salesforce Clouds help with sales, customer service, marketing, analytics, and application development. 
Salesforce also popularized the concept of an app store, creating the richest ecosystem of enterprise apps in the world. Their app partners include key communication channels—like business text messaging platforms.
With a Salesforce SMS integration, teams can make the most of both tools. 
Heymarket's Integration with Salesforce
Heymarket's Salesforce SMS integration empowers teams to use their most up-to-date customer data to improve customer messaging conversations. Top features of Heymarket's Salesforce SMS integration include:
Synchronized Contacts
A Salesforce SMS integration allows teams to ensure their customer contact information is accurate across the two platforms. When customer information is added to or edited in Salesforce, it automatically updates in the business text messaging platform. When customer information is added to the business text messaging platform, it automatically updates in Salesforce. The latter is especially important when a new prospect texts your business, since they will automatically be added to Salesforce.
Automatic Text Uploads to Salesforce
The Salesforce SMS integration can also streamline message tracking. Your business text messaging platform can automatically log every text between team members and leads. The platform ensures that messages are logged to the correct contact, lead, account, and opportunity. This empowers your teams to track touchpoints across multiple channels, improve sales forecasting accuracy, increase visibility across the entire sales or customer service team, and stay compliant with SMS regulations.
Texting for Salesforce
As the title of this blog post implies, texting for Salesforce is a big deal. This is a critical feature of a Salesforce SMS integration. The Heymarket widget lives inside of Salesforce Lightning, and empowers customer-facing teams to use favorite business features—like the shared inbox, templates, and campaigns—from right within Salesforce. Your team can even text from Salesforce Cases in Service Cloud. The entire text conversation will be tied to the customer case, so you can get a big-picture view of customer interactions. With texting for Salesforce, team members won't become distracted when flipping from their CRM to their business text messaging platform. They'll be able to quickly send their message right when they're thinking about it. 
Mass Texting
 with Salesforce
The SMS CRM integration makes it easy to follow up with contacts. Team members simply select a list of contacts, choose their pre-approved template, and click send. As each text is processed by the business text messaging platform, the platform will automatically use merge tokens to dynamically insert custom fields into each message. Mass texts empower your teams to send a large number of personalized messages quickly. 
SMS Drip Campaigns
SMS drip campaigns are messages that are scheduled to be sent on a schedule you define. These are great tools for following up with customers on a regular basis. For example, marketing teams can use SMS drip campaigns to send content regularly, while sales teams can use them to send customized sales follow-ups. Customer service agents can use them to send case follow-ups and surveys. With a Salesforce SMS integration, teams can create campaigns from within Salesforce. This makes it easier to keep customer context in mind while deciding how to format and tailor your campaigns. 
Getting the Most Out of Your App Ecosystem
Heymarket doesn't just offer an Salesforce SMS integration. It offers all kinds of SMS integrations across various platforms.
But the Salesforce SMS integration is key to getting the most out of your app ecosystem. With accurate, up-to-date customer information in your business text messaging app, your other integrations will thrive. Your teams will be able to:
Share accurate data across platforms

Save time usually spent

checking and updating contact information across platforms

Streamline workflows between key apps
A Salesforce SMS integration doesn't just improve the relationship between two apps; it improves your entire app ecosystem, allowing you to provide your customers with a tailored, sleek experience. 
Want to learn more about the Salesforce SMS integration? Check out our SMS resources.