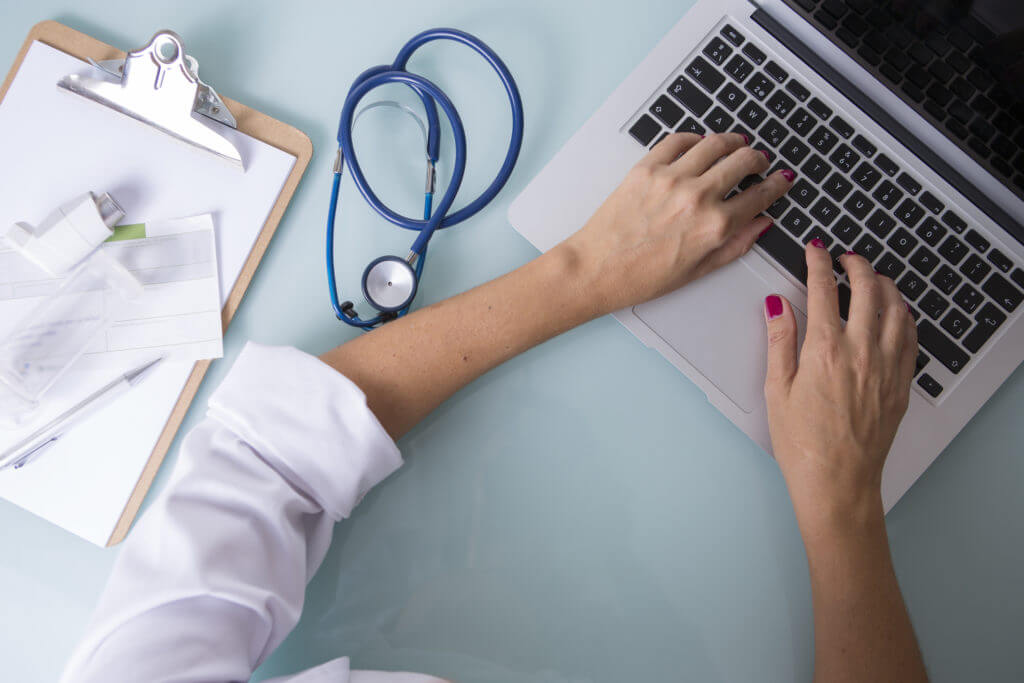 The Medical Group Management Association found that 52.4% of patients miss appointments because they simply forgot to attend or cancel, 28.6% because they wrote down the wrong time or date, and 23.8% because of other issues such as traffic or work. So how can doctor's offices prevent these mishaps? With doctor patient SMS. 
Doctor patient SMS refers to the use of a business text messaging platform to send, receive, and manage patient text messages. These platforms can accept messages from both native SMS apps and over-the-top (OTT) apps, like Facebook Messenger, Apple Business Chat, and WhatsApp. Considering texting's popularity with patients and its convenience for administrative teams, it's no wonder that so many practices are considering adopting it. 
Even so, for any doctor, text message communications will bring up questions about HIPAA compliance. After all, text messages can't be encrypted. They can even be forwarded to other parties. 
So how can your practice stay compliant with HIPAA when you use doctor patient SMS? Read on to find out. 
Don't
Use Doctor Patient SMS to
Send Medical Information 
Because mobile carriers don't encrypt text messages, your teams won't be able to send medical information through business SMS. But that's for the best; doctor patient SMS is best used for simple patient communications, not for sharing patient records or diagnoses. 
When it comes to the office's doctors or doctor, text message communications sent directly to patients are discouraged. Most doctor's offices find that administrative teams are most suited to use doctor patient SMS, for tasks like:
Sending appointment notifications

Scheduling office visits 

Sharing paperwork deadlines

Providing billing and payment reminders 

Reminding

patients that results are available on an online portal
Administrative teams can even send personalized mass messages to streamline the process. Employees simply select a list of recipients, choose or create a template, and click "send." Your doctor patient SMS platform uses merge tokens to draw data from each list member's custom fields. This allows the platform to add personal information to the template, like first name, date and time of appointment, and doctor.  
Whether sent from an administrative assistant or doctor, text message communications must not include personal medical information. As long as your teams only send basic, non-health-related patient information, you'll be adhering to HIPPA—while both reducing staff workload and also increasing patient satisfaction. 
Ensure Patients Opt In
HIPAA compliance is every medical business's priority, but any company that uses business text messaging has to contend with federal and local texting regulations, too. Luckily, they are generally easy to adhere to. While you should review these regulations with your legal team, there are four key ways stay compliant:
Secure Opt Ins Before Texting
Most importantly, your team must secure patient opt ins before your team starts sending texts. Allow patients to opt in with either a texted-in keyword or by filling out a form on your website. After your patients have opted in, be sure to send a confirmation text, just to ensure they meant to sign up for your services. 
Allow Customers to Opt Out
Patients should always be able to opt out of your texting services. Describe the opt-out process in all of your initial texts to patients. Additionally, be sure to choose a doctor patient SMS platform that can automatically opt out customers who text in key phrases like STOP, STOPALL, UNSUBSCRIBE, CANCEL, END, or QUIT. 
Set Clear Expectations
Patients need to know what to expect before they opt in to your texting program. In all of your doctor patient SMS verbiage, be sure to mention how often you plan on texting, and what content patients can expect. 
Send Content With Value
Federal and local regulations make it clear that texting should be used for customer service, not marketing. Ensure you only use business SMS to provide customers with an easier experience, not marketing for procedures or other services. 
Monitor
Doctor Text
Messages 
Doctor patient SMS platforms are incredibly useful when it comes to internal operations. Text messages between your team and patients are automatically logged within the platforms, including message bodies and time stamps. This is useful for providing more personal service—and for ensuring compliance. 
With a long record of doctor patient SMS messages available, doctor's office teams can easily review patient messages, just as they can with a traditional channel like email. Staff members can monitor texts for any inappropriate content or HIPAA violations.
To ensure no one sees customer messages that they should not see, advanced doctor patient SMS platforms will offer roles and permissions. These multi-layered security measures ensure that your patients' SMS conversations are all kept confidential.
Want to start using doctor patient SMS? Try our platform today.