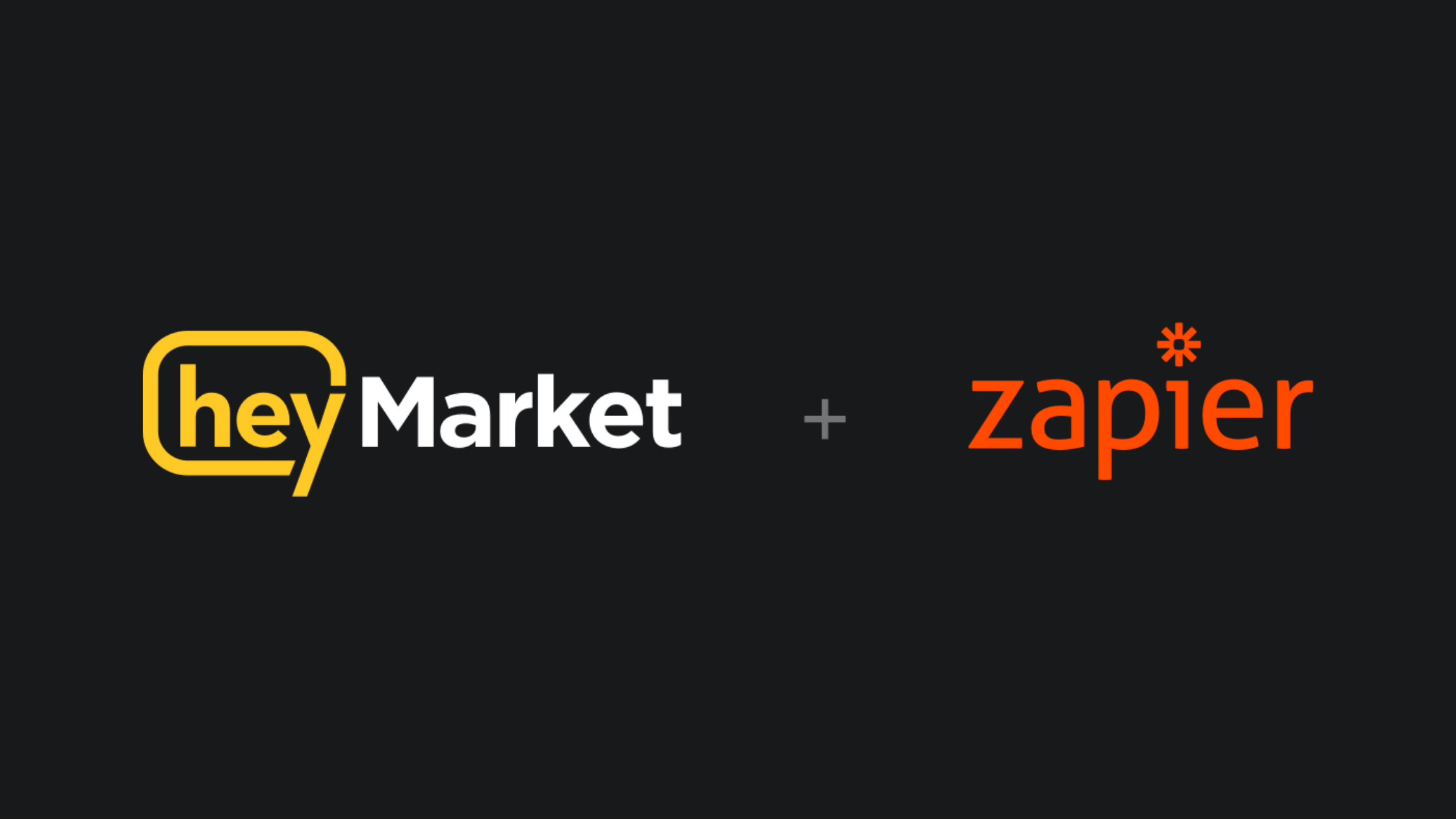 Zapier is a favorite Heymarket integration among our customers. The app integration platform empowers you to connect any and all of your SaaS apps with our texting service for business. In fact, it can connect with over 3,000 apps. Integrations allow your favorite web apps to share data and work together, streamlining your teams' workflows. 
Now, we've got two brand-new triggers to help your team create seamless workflows between platforms.
What Are Triggers? 
If you're new to Zapier, you might not know what triggers are in the first place. 
A Zap is a workflow that contains triggers and actions. Triggers are events that start the actions. The Zapier platform identifies events when they happen within a connected platform. Then, Zapier conducts an action. 
For example, if you want Heymarket to send a text message to opted-in customers each time they email your customer service platform, you would set the trigger as "new email in inbox." Each time Zapier recognizes that a new email has arrived in your customer service platform's inbox, it will send that opted-in customer a text. Sending the text message is called the action. 
Heymarket's Supported Triggers 
Heymarket now supports a total of 6 triggers, and the first two are new. These include: 
Incoming Message Unsubscribe

, which triggers an action when contacts unsubscribe themselves via SMS. 

Incoming Phone Call

, which triggers an action when phone calls are received by a platform. 

Chat Started,

which triggers when new chats are started. This can be configured to trigger from either inbound or outbound chats.

New or Updated Contact

, which triggers when contacts are created, updated, or imported into Heymarket. It also provides information about the corresponding contacts.

Incoming Message

, which triggers when messages are received, including third-party integrations. 

Outgoing Message

, which triggers when messages are sent in Heymarket for a given inbox.
Heymarket's Supported Actions
Heymarket also supports the following actions:
Send Custom Message

, which sends custom messages to phone numbers from an inbox.

Send Template Message

, which sends messages from a predefined template.

Create or Update Contact,

which creates contacts in Heymarket with the provided information. Existing contacts, determined by phone number, will be updated with the new information provided. Contacts can also be added to a list with this trigger.

Update List

, which adds or removes contacts from a Heymarket list.
So how can you use the two new triggers with actions? You may want to set "Incoming Message Unsubscribe" as a trigger, and "Update List" as an action. As soon as a customer texts or messages in with an unsubscribe keyword, Heymarket will remove the contact from your list. 
You could also set "Incoming Phone Call" as a trigger, then "Update Contact" as an action. When an opted-in customer calls in to your voice customer service platform, Heymarket can add them to a "Phone Follow Up" list. 
Bonus: Adding Custom Filters to Triggers
Adding custom filters to triggers is a great way to personalize triggers. This will make your actions more specialized and useful than ever. 
For example, you can set your business text messaging platform to send customers specific texts when they identify certain keywords. 
First, you choose the relevant app and trigger: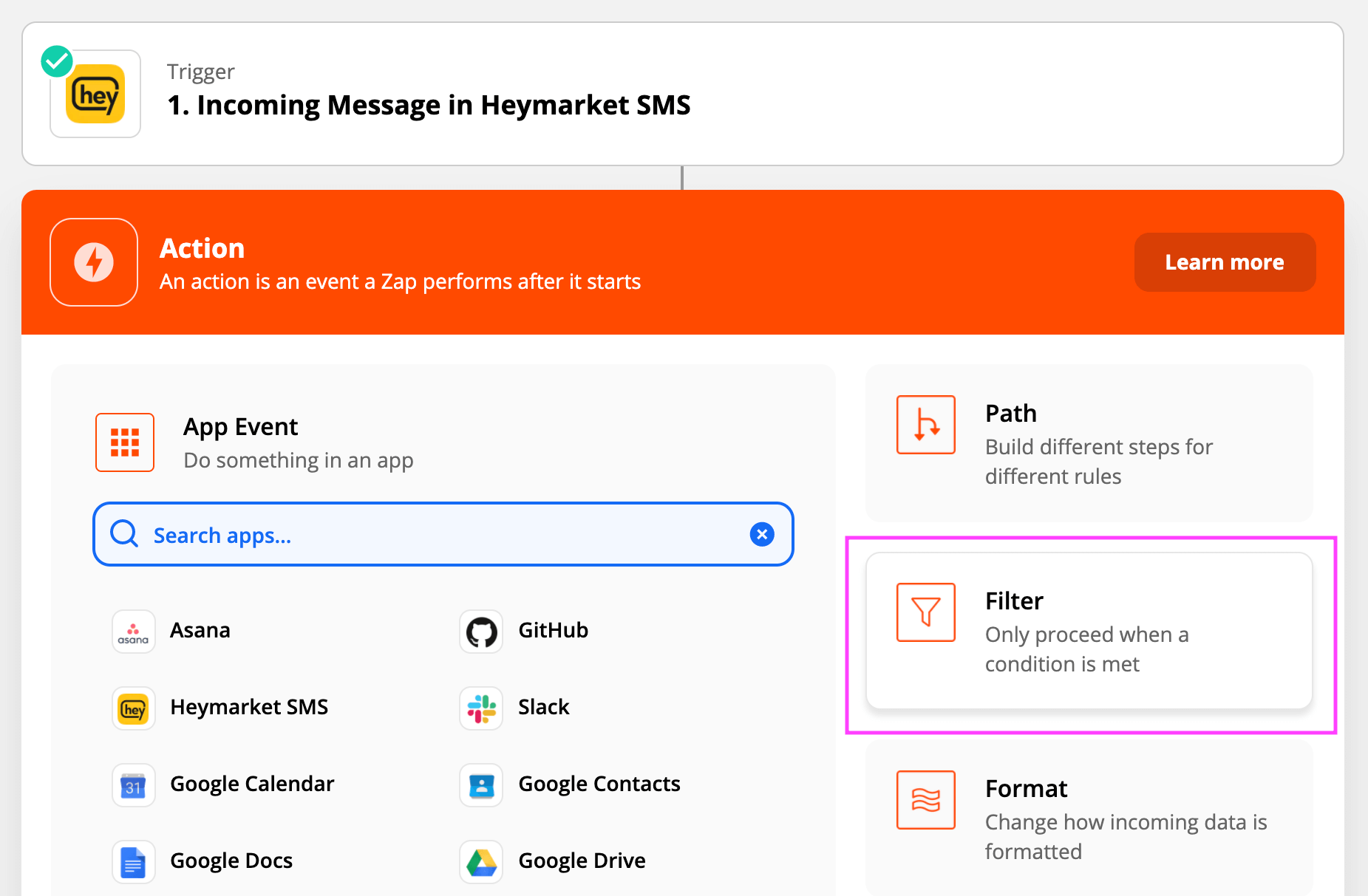 Then, you select the action: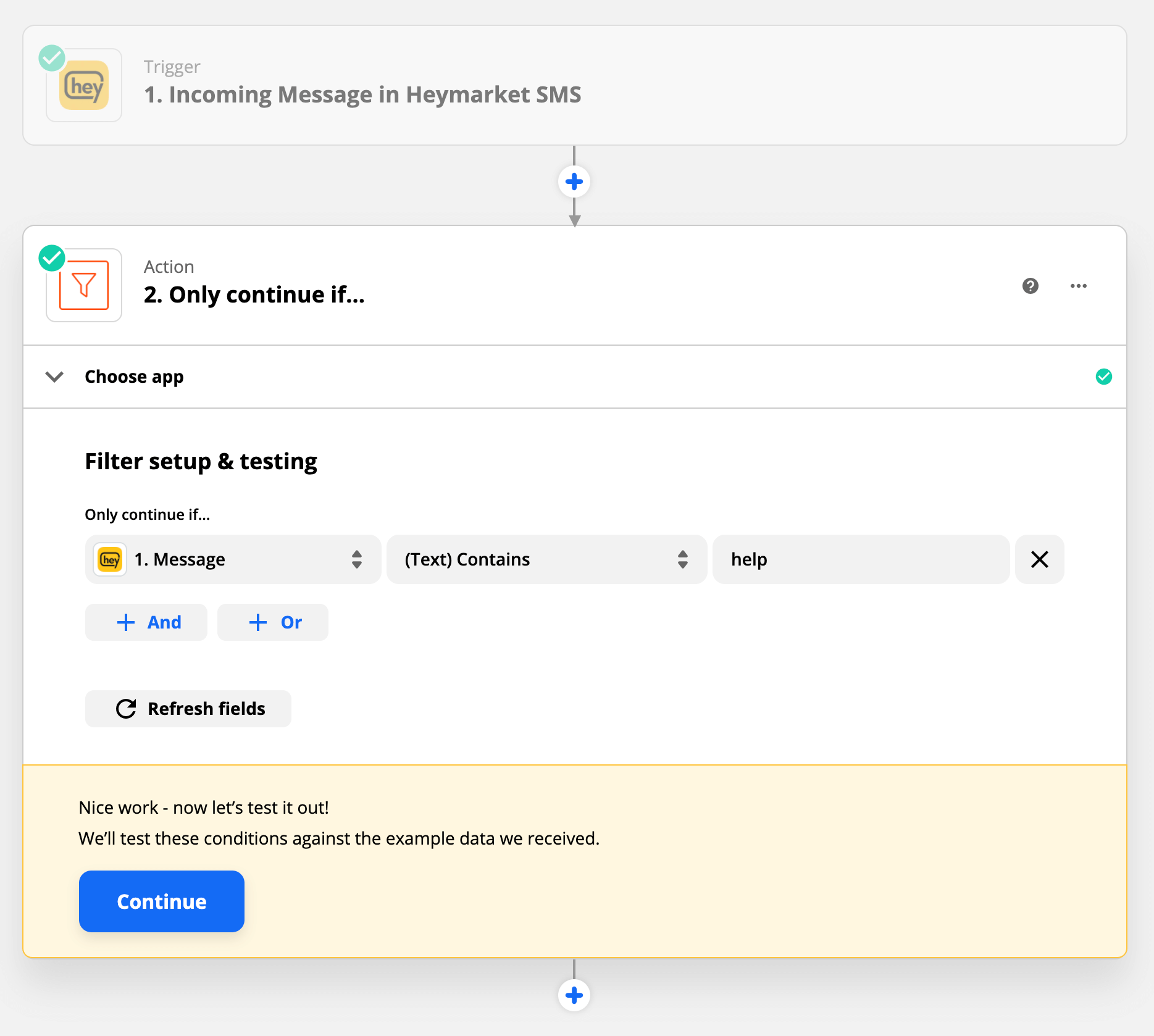 After setting up your custom filter, test it to ensure Zapier and Heymarket work together, correctly producing the action you'd like to see. 
Ready to get started with Zapier? Check out our app listing.