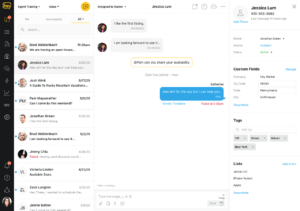 Heymarket has made strides over the past few years. 
Heymarket started out as a mobile app that was laser-focused on providing an intuitive, business-grade messaging user interface. Then, while still focusing on ease of use, we added shared inboxes, campaigns, automations, reports, and powerful administrative features. 
Along with our core SMS support, we have added support for key channels like Apple Business Chat, Google's Business Messages, WhatsApp, and Facebook Messenger. That's not to mention our selection of integrations, which connect our platform with key web apps like CRMs (e.g., Salesforce and HubSpot) and CSPs (e.g., Zendesk and Help Scout). 
Meeting A Variety Of Needs
As our platform has grown and attracted an expansive range of new businesses, we've noticed that a wide variety of people use it daily. 
Our users include a mix of:
Individual employees and agents:

daily users who message directly with customers. They're using Heymarket on their computers and smartphones all day.

Managers

: power users who set up Heymarket for department workflows and track usage

via reports

. They use Heymarket a few times a day.

Executives and business owners:

oversight users who manage teams and track compliance. They often want to monitor customer conversations from other, popular enterprise apps.
This variety has called for some additional functionality on our part. We have bolstered messaging channel support, strengthened CRM integrations, and increased potential user personas. But as we added more features to our platform, we realized that more changes were needed. 
New UI Update Details 
Because of our platforms' growing complexity, we decided to simplify and modernize our web app's user interface. 
The benefits of this redesign include:
Increased intuitiveness

. Heymarket's interface was always intuitive—even for first-time users. Now, we have improved the contrast of buttons and icons, which makes the app easier to read. Team members will be able to navigate the platform faster than ever. This will be especially useful for training new employees. 

Accessible power features

. Heymarket's more complex features, like automations and integrations, have always been helpful for advanced users. But they were a little difficult to find for those new to the platform. Now, new users can quickly discover them in prominent locations. 

Easy-to-use power features

. The power features aren't just easier to discover. They're easier to use, too. Even users encountering power features for the first time will find that it takes little time to get comfortable with them now. We have also created consistency in menus, icons, and layouts across complex features such as automations, reports, and campaigns.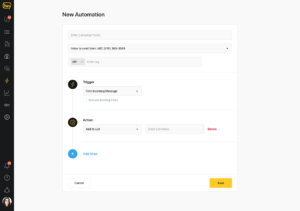 With increased intuitiveness, plus accessible and easy-to-use power features, your teams can get even more use out of the Heymarket business text messaging platform. 
Got questions about our new UI? Ask our team.