Capture Leads on any Website
Businesses of all sizes have invested heavily in creating professional, engaging websites. As new customers enter your site, it's important to make it easy and inviting for them to ask your business questions. A text service for business can help encourage customers to reach out. 
With the Heymarket Web Widget, people can do that directly from your website. Every customer's question will be delivered as a message in the Heymarket shared inbox of your choice. Customers can leave their phone number and receive your team's reply as a text message. Because it's embedded in your website, the widget is great for capturing leads at the moment of highest intent. And leads are never lost since your team can reply with text messages, which have a 98% open rate.
Customize to Match Your Website
Every part of the widget can be fully customized to match the look, feel, and voice of your website. That includes the colors, business name, welcome greeting, and compliance language. For mobile customers, tapping on the widget launches the native SMS app on their phone and makes it simple for them to text your business.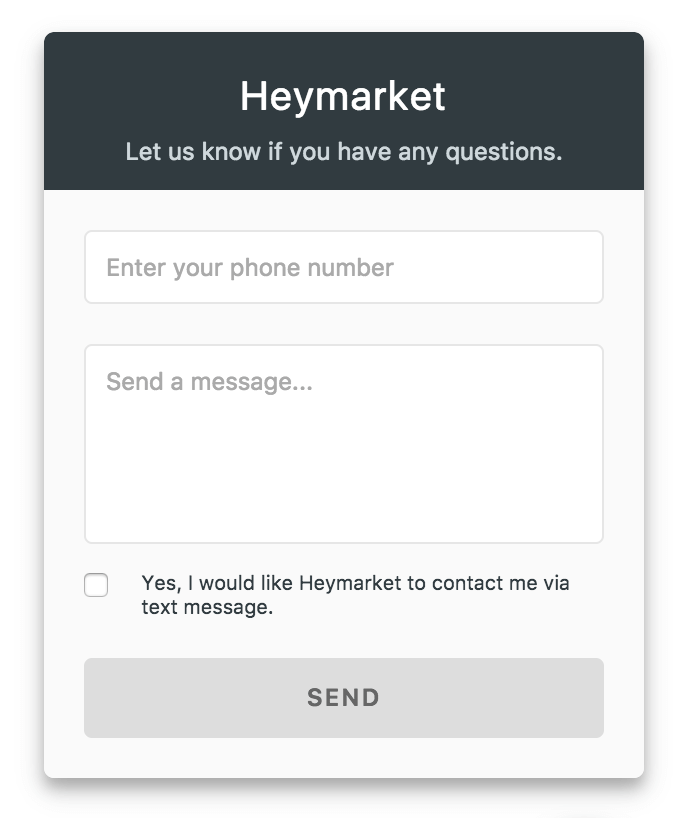 We even designed the widget to work on all types of websites: WordPress, Squarespace, Weebly, and any site using Google Tag Manager.
The widget can be combined with other Heymarket features to maximize your team's response rate. For example, add a Heymarket auto reply so people know if your team is out of the office. Or deliver incoming widget messages to a Heymarket shared inbox so anyone on your team can read and reply to them.
The widget is available today to all Heymarket customers. Feedback is welcome!