If you're an avid Slack user, like our team, then you spend a good chunk of the day using the tool to provide updates, feedback, planning deploys, and many other things. Slack is a great way to stay updated on business processes by integrating with existing project management, system monitoring, and customer support tools. It has become the default, internal collaboration tool for tens of thousands of companies like ours.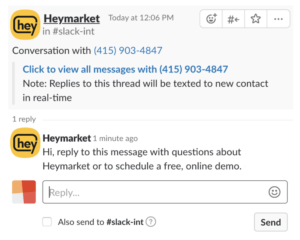 But what happens when you're communicating with customers, contractors, or partners who are outside of your organization? We're excited to announce that Heymarket now brings business text messaging to Slack. It's great for tracking customer support, sales, and operations requests from any Slack channel.
With this integration, new inbound text messages can appear in a Slack channel, where members can read and reply to them. Heymarket supports Slack threads to keep the channel uncluttered and organized. The integration also allows team members to assign and archive chats directly from Slack. Since photos are a key component of messaging, Heymarket renders them in the Slack channel, making it easy to download and share them.
The Slack integration is available today with every Heymarket subscription. Get started by setting it up from Heymarket's Slack SMS page.