We're excited to announce that Heymarket now supports iOS 12, released today by Apple, and a host of new features that come with it. iOS 12 includes significant performance improvements so you will see shorter launch times for apps, attaching photos will be quicker, and tapping notifications will be more responsive. iOS 12 also includes a number of new features that Heymarket supports to make your daily business messaging more productive.
Set Reminders from Notifications
Since iOS 11, Heymarket has allowed you to reply to messages from notifications. Just tap them to read the message and reply from the compose field. With iOS 12, you can now set a reminder for a message. When a new Heymarket message notification appears, long press it and pull down. Heymarket will show options to set a reminder for later today, tomorrow morning, or next week. Reminders are great for when you're too busy to reply.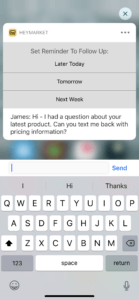 Artificial Intelligence to Flag Messages
Heymarket supports Core ML 2 and Create ML, Apple's frameworks for machine learning. With it, Heymarket is able to detect when someone is requesting a meeting or using inappropriate language in incoming messages. For example, when a customer is being unprofessional or if you receive incoming spam. Heymarket will detect these types of messages and display a 'Block' link below the message bubble. Just tap it to block the contact. They won't know that you have blocked them, but the app won't display any further messages from them. Contacts can always be unblocked at a later time. Heymarket can even notify your team administrator about these types of messages and allow them to generate a report. It's great for customer service managers and ensures that blocked messages don't impact KPIs.
Siri Shortcuts
Siri Shortcuts are a powerful concept. They allow you to invoke actions in apps based on triggers. Siri now recommends triggers and actions based on usage of your iPhone. Heymarket supports the ability to send messages with Siri Shortcuts. Next, use Apple's Shortcuts apps to string together triggers and actions. Here are some examples of using Heymarket with Siri Shortcuts:
Send a text reminders to attendees before a meeting is scheduled to begin.
When adding a contact to your phone, text them a copy of your own contact information (it's a great replacement for exchanging business cards).
When getting a phone number from another app, send a Heymarket text message (this is great to include in your standard, iOS Share Sheet).
Getting Started
Get the Heymarket iOS 12 app update from the App Store today. Let us know what you think!