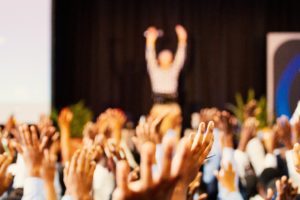 Conferences offer attendees a chance to meet, network, and learn—but it's hard for today's busy professionals to commit to week-long events. Today, mini-conferences are all the rage, offering all the benefits of a traditional conference in a shorter period of time. And to ensure these fast-paced events run smoothly, many savvy businesses are turning to conference text messaging. 
Text messaging for events and conferences is different from typical texting. First and foremost, a proper conference text is sent from a business text messaging platform. These cloud-based apps help teams send, receive, and manage attendee messages. Conference text messaging is also more business-oriented; team members include signatures and professional language in their texts. 
Want to learn how text messaging for events and conferences can help your team run your mini-conference? Let's dive in. 
Boost Registration with Conference Text Messaging
Potential attendees will probably have questions before they register for your mini-conference. Your team could answer all of these queries via email or phone call, but emails take time to answer—and even more time for customers to respond to. Each phone call consumes your team member's entire focus, making it difficult for them to multi-task.
With messaging, team members can handle multiple conversations at once—and still provide the immediacy of phone calls. Incoming messages arrive in a shared inbox, where permissioned team members can immediately review and answer chats, ensuring that no messages slip through the cracks. 
Pro tip: To encourage potential attendees to text in, add your conference text messaging number to all of your mini-conference ads and webpages. You may want to use some call deflection strategies, too. 
Prepare Attendees with Conference Text Messaging 
Once attendees register for your mini-conference, it's important to keep them informed. Be sure to publicize your conference text messaging services on any initial confirmation emails or materials. Once they opt in to your texting services, you can start preparing them for the event. 
Your team can use conference text messaging to send attendees:
Initial registration confirmations

Updates to general schedule

Paperwork reminders

Upgrade information

Special event sign-up links

Mini-conference day information, addressing travel, check in, and security checks
Pro tip: On average, 90% of texts are read within three seconds of receipt. In the pre-conference stage, conference text messaging is especially useful for content that you want your attendees to read immediately, like emergency, delay, or change of venue notifications. 
Streamline Event Day with Conference Text Messaging 
On the day of your mini-conference, attendees will be milling about your venue, not checking their email or listening to long voicemail messages. However, you can assume they'll be checking their texts between sessions. 
During event-day, you'll want to ensure your attendees are sticking to the schedule—and taking advantage of all the extras your team has to offer. Use conference text messaging to send:
Agenda reminders (e.g. "The keynote begins in 15 minutes. Please make your way to the main hall.")

Change notifications (e.g. "The attendee breakfast has been moved to the third floor of the Hilton.")

Last-minute offers (e.g. "10 tickets for the VIP dinner remain! Text back to reserve one.")
Pro tip: For many conferences, regular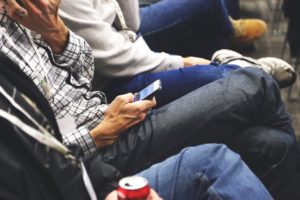 attendees use email, but VIP pass holders get to call a special phone number. In a similar vein, consider offering a VIP texting line. Offer a minimum 10-minute response time and the possibility for VIP attendees to ask individual questions or make special arrangements. 
Get Feedback (and Reviews) with Conference Text Messaging 
Your mini-conference isn't really over until you've collected and analyzed post-event feedback. This feedback will help you when you plan next year's event. In a similar vein, you'll want to ask your attendees to send reviews to top online review websites—after all, 76% of people trust online reviews as much as they trust recommendations from family and friends. By improving your mini-conference and gaining more online reviews, your attendance will grow next year.
Conference text messaging supports your team in this final stage of your mini-conference, allowing team members to efficiently send feedback and review requests. Because about 1 in 5 people will click a link in a text compared to just 4.2% for email, your texted feedback and review requests are more likely to receive responses. Your team can send:
CSAT survey requests with links

Direct NPS surveys

Online review requests with links
Pro tip: To get more online reviews with SMS, send your review request in the moments when you can expect your attendees to be happiest—in this case, right after your last scheduled event of the mini-conference. Don't ask for a positive review specifically, because that can annoy your attendees. Finally, you'll want to leave a direct link to the online review site of your choice: think Google My Business or Yelp. 
Want to use text messaging for events and conferences? Try our platform for free.