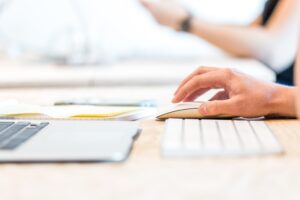 There's a good chance your business uses Salesforce Sales Cloud, Marketing Cloud, or Service Cloud. Your business may even use all three. These cornerstone tools help attract leads, engage customers, and nurture loyal brand advocates. Your business can get even more out of these critical tools with an SMS Salesforce integration. 
A business SMS platform empowers your teams to send, receive, and organize customer texts. Integrating your SMS platform with Salesforce allows both platforms to share data in real-time. This opens up a world of content management and workflow possibilities for your team. 
Many businesses that integrate the two platforms focus on basic data-sharing capabilities. It's useful to have up-to-date data throughout your app ecosystem. Your teams don't have to manually update lead or customer information when it has changed in one platform, saving time and preventing mistakes. But there are a lot more ways for your teams to benefit from a cutting-edge SMS Salesforce integration. 
These 9 tips will help your teams make the most out of your SMS Salesforce integration—no matter which Salesforce Cloud you use. 
SMS Salesforce Service Cloud Integration
Salesforce Service Cloud is a critical tool for streamlining customer support. With the SMS Salesforce Service Cloud integration, your agents can offer more personalized—and faster—service. To take full advantage of the integration, your team should:
Use Synced Data to Tailor Customer Conversations
An SMS Salesforce integration automatically updates customer information in both platforms. If you receive a text from a new customer in your business SMS platform, the new contact will be logged in Salesforce. New data in Salesforce will update within your business SMS platform. This feature is critical for your customer service agents, who rely on detailed customer service history. Accurate data empowers them to tailor their service to each individual customer.
Route Messages to Answer Customers Faster 
An SMS integration empowers your teams to create automations that activate when they receive a trigger. For example, your business text messaging platform may receive a text with the word "return." Your Salesforce platform will recognize the trigger word, then route the message to a returns specialist. 
Create Detailed Auto-replies to Set Customer Expectations
Your agents are probably busy. But customers want to know exactly when they're going to receive responses to their questions. With your SMS Salesforce integration, you can automate after-hours or during-hours replies. Your business text messaging platform will automatically insert up-to-date customer information (date of last contact, last purchase, etc.) from Salesforce in each outgoing template. 
SMS Salesforce Marketing Cloud Integration
Your teams may use Marketing Cloud to engage and track leads with effective marketing tools, like email drip campaigns and landing pages. With an SMS Salesforce Marketing Cloud integration, your teams can connect with customers through more channels. To take full advantage of the integration, they should:
Send Mass Texts to Increase Deliverability and Scale
The SMS Salesforce Marketing Cloud integration empowers teams to send texts straight from the Salesforce interface. While some SMS solutions only offer short codes, tools like Heymarket offer long codes, which lend themselves to conversational marketing. Texts sent from long codes can be sent to thousands of customers without bouncing. Plus, customers are more likely to read the SMS marketing content they receive; 98% of text messages are read by recipients. 
Follow Up through SMS Drip Campaigns to Reach More Customers
Within your Marketing Cloud interface, your teams can create SMS drip campaigns. SMS drip campaigns work similarly to email drip campaigns. You can choose what content to send and exactly when to send it. You can also choose triggers that add or remove customers from campaigns. With all SMS and email campaigns in one place, marketers can easily compare and refine their strategies. Marketers can also add SMS to other workflow sequences through Journey Builder. For example, they can send texts if customers don't respond to emails.
Connect with 1:1 Conversations to Seal the Deal
Your marketers will also be able track (or respond to) customer texts within your Marketing Cloud interface. Reviewing lead responses to SMS marketing campaigns—even if they're being answered by customer service or sales team members—will empower your marketers to hone their strategies, attracting more engagement overall. 
SMS Sales Cloud Integration
For Sales teams, Sales Cloud is by far the best way to track their many leads. Many salespeople practically live within the Sales Cloud interface, leaving it open when they have to use other apps to communicate with leads. An SMS Sales Cloud integration ensures that salespeople don't have to leave their favorite CRM again. Teams should: 
Connect with Leads from Within Salesforce to Stay Focused
An SMS Sales Cloud integration empowers salespeople to text leads right from within Salesforce. When they are reviewing a lead's or customer's information and history, they can simply send them a quick follow-up if they notice that the lead has gone cold. Texting from within the interface means that salespeople don't need to open a new app, expediting lead communications.  
Keep Leads Engaged through A Channel They Like
Process Builder is a useful tool for creating automated workflow sequences. These sequences empower salespeople to streamline many activities. For example, they may automatically send emails to leads who haven't engaged in a certain amount of time. With an SMS Salesforce integration, they can also incorporate texting into Salesforce workflow sequences. For example, if leads don't respond to an email, then the system can send a text. Given that 90% of leads would rather text, the chance of a response is higher. 
Review Lead Engagement Over Multiple Channels to Improve Sales Forecasting
Sales Cloud can already record emails and website engagement stats. An SMS integration empowers them to do more. Text histories are logged to the correct object within the Sales Cloud. Team members can also review a wide array of SMS KPIs. These tracking tools make it easier for sales teams to see how successful channels are overall and improve the accuracy of sales forecasting. 
Have questions about optimizing your SMS Salesforce integration? Ask our team.