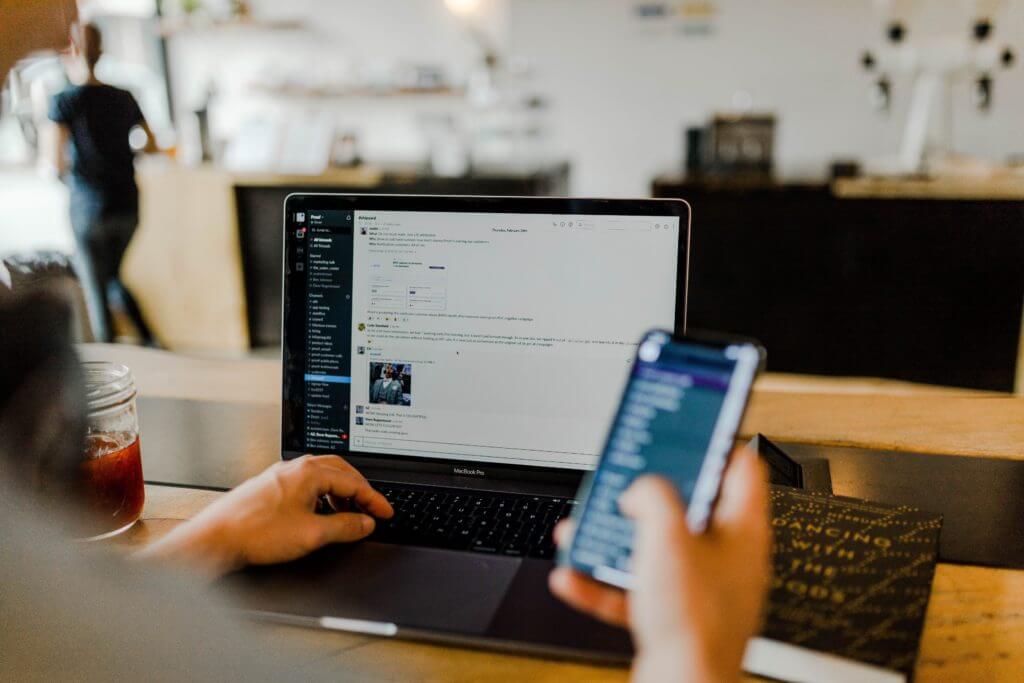 If you're a modern business, there's a good chance your teams use Slack to collaborate on everything, from status updates to project management to general Q&A. The platform has over ten million daily active users and 85 thousand paid customers, including 65% of the Fortune 100. But if your teams love to use Slack, that means they probably have to constantly switch between Slack and whatever other third-party apps your business prefers. This can lead to a loss of focus and wasted time, which is why so many businesses are turning to Slack SMS for help. 
Slack SMS is an integration that any business with an advanced business text messaging platform can use. The integration allows customers to send SMS to Slack, and team members to read and reply to SMS in Slack. Plus, Slack SMS offers in-channel collaboration tools for streamlined customer service management. 
So how exactly can your business use Slack SMS to help team collaboration? Follow these 4 steps. 
Step 1: Integrate Your Business Text Messaging Platform
First thing's first: in order to take advantage of a Slack SMS integration, your business needs an advanced business text messaging platform. (Hint: you can try a text service for business at no cost if you don't want to commit quite yet.)
Once you have your business text messaging platform, and your business number (landline, VoIP, or toll-free) is text-enabled or you've picked out a brand-new number, setting up the actual Slack integration should be easy. With a modern business SMS platform, you'll be able to add the integration after a minute of administrative work within your platform. After accepting permissions in both your business SMS platform and Slack, you'll be ready to go. 
The Slack SMS integration should be easy to access. If it's not—or if it isn't available at all—you may want to consider using a different platform to suit your business needs.
Once the integration is complete, customers will send SMS to your business or department without knowing that it arrives in Slack. Employees can then send customers replies through Slack, and customers will receive messages in the same channel through which the initial communications were sent. 
Step 2: Map Incoming Customer Messages to Slack Channels
Each shared inbox can be mapped to the Slack channel of your choice. If you have multiple shared inboxes, you can link each to a separate channel. It's important to include all relevant team members in the channels; anyone in the channel to which the business text messaging app is mapped can read and reply to those customer messages.  
Administrators can set up notifications, so that each channel member is alerted to every incoming message. Alternatively, the channel can notify only certain team members. Each permissioned team member can see incoming messages and whoever is available can quickly create a thread to answer. Managers can also manually assign any message to a team member within Slack. Threads help keep the channel clutter-free. 
Having customer texts arrive directly into your favorite team-friendly app will automatically improve your team's response time—and ensure that no customer messages slip through the cracks. 
Step 3: Collaborate on Customer Messages in Another Channel
Slack SMS can help your team members collaborate on messages, too.
When a team member opens a thread with a customer, they can quickly return to the channel to ask any questions of other channel members, without the customer seeing the private comments. After the team members collaborate behind the scenes, the customer can receive an accurate answer without knowing how much work went into it. 
By leveraging Slack's user and channel administration, teams can work together to get the right answer to customers faster than ever before. 
Step 4: Review Reports within Your Business Text Messaging Platform  
Even after your team integrates your business text messaging platform with Slack, all the text messages sent and received through the channel will be saved in the platform. The business texting platform will also offer clear reports on important KPIs, like response time, resolution time, and number of ingoing and outgoing texts.
Analyzing reports is critical to improving team collaboration. KPIs can help your teams determine where they need to improve. For example, if first response time is slow but resolution time is fast, teams know that they need to work on answering incoming text messages more quickly. If first response time is fast but resolution time is slow, teams know that they need to work on collaborating with team experts.
Once teams have analyzed their weak points, they can determine a new teamwork strategy—and keep boosting customer satisfaction. 
Want to learn more about Slack SMS? Give us a shout.