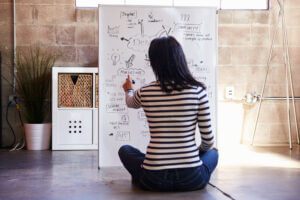 Business SMS has become a popular tool for reaching and engaging leads. SMS is a convenient channel that lets leads explore new products and services in a more personal way than traditional advertising or marketing. It's an extremely popular sales tool: 98% of text messages are opened, and 90% of leads would rather be texted than called.
Sales teams love business SMS, too. Today's advanced SMS sales platforms offer efficiency features and automations that help team members streamline their workflows, making it easier for them to reach more leads without sacrificing that personal touch. 
Read on to learn how to automate the 4 most common SMS sales workflows. 
Maintaining Lead Data
Your team relies on a CRM product to organize leads, track lead interactions, measure your outreach's success, and forecast sales. That's why ensuring you have accurate data is a priority. However, it can be difficult to manually check your CRM and communications channels to ensure that all contact data is uniform. Luckily, there's CRM contact synchronization for that. 
To automatically maintain lead data between your CRM and SMS Sales platforms, you simply need to integrate the two platforms. The process should be straightforward, depending on your SMS sales platform. An SMS CRM integration will continually update your lead data in real-time. For example, if a team member adds a new contact to your sales SMS platform, that contact will appear in your CRM. If a team member updates custom fields in your CRM, that information will update in your sales SMS platform. 
Automating lead data maintenance reduces your team's manual legwork while ensuring all lead data is up to date. 
Reaching Out to New List Members
Fast responses to new leads are critical in the sales world. Even though your team can answer new lead texts relatively quickly, there's no way to answer 10 incoming texts at once. In this case, it's critical to set up an automated initial welcome message with key information—including your response time. 
To set up this automation, your team must:
Include basic information, like your business's website and response time, in your initial outreach template. Sending it automatically is a great way to educate leads while ensuring they know that an answer is on the way. 
Following Up After Queries
After you've chatted with leads, it's critical to follow up with them. You may want to ask if they have any additional questions, if they enjoyed their purchase, or if they'd like to make an upgrade. An SMS sales platform makes it easy to schedule a follow up after any lead interaction. 
To automate a future text, your team can:
Write a follow-up text

Schedule it to be sent in a predetermined amount of time

Press

"schedule"
Automating these follow-ups allows you to ensure you're connecting with leads at a later time—without forcing you to revisit the interaction when you may have forgotten the key details. Any replies will arrive in your shared inbox, where you can immediately pick up the conversation.
Nurturing Leads
Many leads won't convert right away—but they may convert later if you stay in touch. Sending regular content that's educational and even entertaining is a great way to keep leads warm. You can easily nurture leads by texting them with product tips, new release information, customer case studies, and polls. Your SMS sales platform will allow you to create SMS drip campaigns that automate regular lead nurturing content. 
To set up a drip campaign, your team can:
Choose a

list

of leads

Select a schedule to send the lead nurturing texts on

Create multiple templated messages
Engaging leads regularly keeps them interested in your products or services. When a lead is ready to convert, they can reply to a text privately. All customer messages will arrive in your shared inbox, where your team can help them make a decision—or send them a purchase link. 
Want more sales tips? Head to our blog.