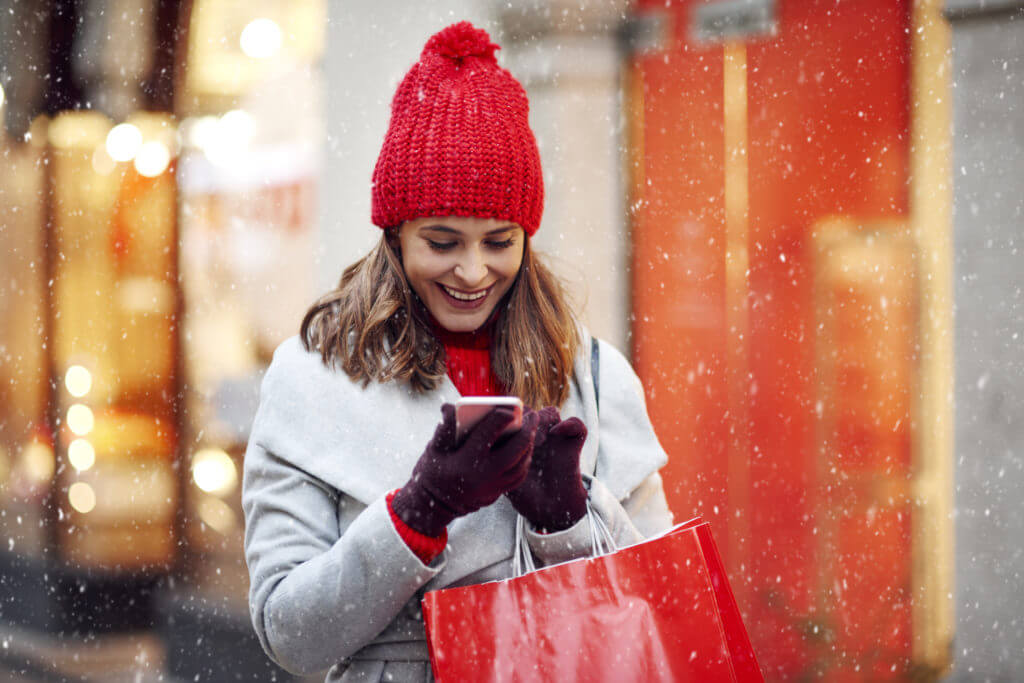 With an open rate of 98% and response time of 90 seconds, business SMS is one of the most effective communication channels available. Mid market businesses are beginning to recognize the value of business SMS—especially around the holiday season, when customers are far too busy to check their emails for company communications. In fact, last year Salesforce revealed a year-over-year increase of 159% in SMS notifications sent to customers on Thanksgiving and 69% in SMS notifications sent on Cyber Monday. 
The increase in holiday SMS communications during the holiday season is expected to continue, and with good reason. Business SMS helps mid market businesses' various departments send, receive, and manage the huge influx of customer messages during the holiday season, saving teams valuable time. 
Read on to learn how mid market businesses can utilize holiday SMS for the holidays. 
Expedite Customer Resolutions
During the holiday season, customers tend to contact brands more than usual with questions and requests regarding gifts and orders. Holiday SMS empowers mid market customer service departments to:
Receive All Messages In A Single, Shared Inbox
Top business SMS platforms can receive all customer messages in a single inbox, whether they are sent from native texting apps or over-the-top (OTT) apps like Facebook Messenger and WhatsApp. Customer service agents can simply reply through their business SMS platform, and customers receive responses through the original channel. Centralizing all of these messages in a central channel saves agents time they would otherwise spend flipping through multiple interfaces.
Receive Customer Responses Quickly
Part of the problem with resolving customer queries via email is that customer responses are too slow—if they choose to send a response at all. Because the average consumer responds to texts in 90 seconds, team members can resolve customer queries through holiday SMS faster than ever before. 
Automate Initial Responses
Customer service teams can even automate their initial responses, saving time on first steps and even closing out entire conversations. Advanced business SMS platforms can recognize certain keywords and send the appropriate reply. For example, a customer texting in the word "return" might receive this initial response: 
Hi there! Returns are accepted within 30 days. Text us your order number if you want to start the process now.
Share Holiday-Related Updates
The holidays are busy for everyone. Customers are often travelling or with family, and mid market businesses are inundated with incoming orders. With holiday SMS, teams can keep customers up-to-date through the most convenient channel for everyone. Mid market sales and order fulfillment departments can use business SMS to: 
Send Order Updates
During the holiday season, customers want to know where their orders are at all times. After all, they're relying on deliveries so they can wrap their gifts in time for their respective holidays. Texting is the best way to keep customers updated in near real-time. Advanced mid market businesses can even use an integration with an eCommerce platform to automate order confirmations. As soon as customers place their orders, the business SMS platform can send order confirmations, personalizing each with merge tokens that draw on customers' custom fields. 
Provide Customers With Holiday Hours
Your mid market business might have special holiday hours, and even special holiday communication policies. Set up a holiday SMS auto reply for customers who text in during hours to let them know how long it will take your team to respond. Additionally, be sure to set up an after-hours auto-response to let customers know your hours. This way, customers can relax, knowing that your business is there to help in a pinch.
Advertise Holiday Specials
While business SMS is best for managing customer communications, it can be used for some light holiday SMS marketing as well. Just be careful to keep your marketing content authentic, focusing on providing value instead of selling goods. Marketing and sales departments can use holiday SMS to:
Offer Holiday Greetings
Sending a holiday greeting is a great way to kickstart the customer relationship, especially if you haven't chatted with your customer in a while. Offer wintery greetings or New Year's wishes with extra pizzazz, like an emoji or a GIF. (Of course, you'll want to confirm that your contacts have opted into your business SMS service before you text them.)
Send Seasonal Tips
Marketing teams can send seasonal tips or fun facts to remind their customers about their products or services. For example, a hair salon chain can offer winter hair care advice, and a gym chain can send its member base a winter workout for snow days. These tips show your customers that you care about them, even beyond their purchase. 
Publicize Winter Events
If your business is offering a holiday special, let your business SMS customers know about it. However, be sure that you're focusing on providing value, not selling your services or products. Too many coupons can annoy customers, leading them to opt out of your business SMS program. Holiday SMS works well for publicizing in-store events, and SMS-specific deals. 
Ready to start using business SMS in time for the holiday season?Try our text service for business for free today.