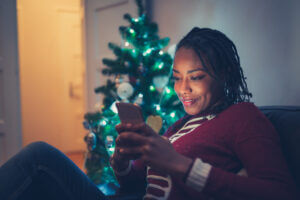 Since COVID-19, holiday shopping looks a little different. Your physical store may not be open as many hours. You may not have as much capacity. Customers are focusing on online shopping. So how can you engage shoppers during the holidays when your team is working in a remote environment and not your store? Business text messaging. 
Your customers love to text. That's why texts have a high open rate of 98%. Business text messaging platforms help your teams quickly send, reply to, and manage customer texts. With the help of a platform, your team can reach out to and engage with more customers than ever before—even if they're working from home. 
Read this blog post to learn how your team can engage customers during the holidays, no matter where they're working from.
Bring the In-Store Holiday Experience Closer to Home
Fewer customers are strolling through your store. That means they'll miss your beautiful holiday decorations, special holiday gifts (like in-store hot chocolate), holiday music, and the holiday candles or essential oils you usually burn in your stores. But with business text messaging, you can bring some of that holiday experience right to their phones. 
You can't exactly turn texts into a holiday display, but you can add some visuals to them. Photos, GIFs, emojis, and videos can go a long way to spicing up your usual customer service or marketing texts with holiday aesthetics.  
Your team should consider:
Recording and texting a seasonal greeting from your team 

Sending long-time customers photos of your holiday displays as part of a store update

Adding holiday-related emojis to regular customer service follow-ups (think Thanksgiving turkeys, present boxes, and confetti)

Including holiday movie GIFs (or just snowy scenes) in marketing messages or business updates
Including holiday visuals in your business text messaging communications can bring holiday cheer to an out-of-the-ordinary holiday season. 
Recreate In-Person Conversations (from Afar)
Retail associates are one of the main draws of the in-store shopping experience. They're always available to find a laptop in a different color, or let you know whether a shoe will work well for trail runs. During the holidays, when customers are desperately searching for gifts, retail associates become even more important. 
Text messaging is a fast-paced, welcomed channel that resembles real-time conversations. Texts are already sent through a channel considered casual and personal (i.e., used between friends, family members, and trusted brands). Plus, they're read within the first three seconds of receipt 90% of the time and responded to in 90 seconds on average.
Text messaging is as close as shoppers can come to an in-person conversation if they're not on the phone. Get shoppers in touch with your retail associates via SMS by:
Advertising a Q&A line

Reaching out to customers on your SMS list to see if they have questions

Following up on past SMS conversations with personalized check-ins
Recreating in-personal conversations via business text messaging is a great way to engage customers—and remind them that holiday shopping is a community experience.
Offer New (and Useful) Services
A lot of your customers will miss out on the holiday shopping experience this year. Those who choose to shop online will forego beautiful holiday decorations and chats with your cheery retail associates. One of the best ways to engage them is to offer them something brand-new—online holiday services. 
When your team is working on the floor, there's only so much you can do besides answer shoppers' questions and check them out. Now that more of your team will be working in a remote environment, you can offer additional, specialty services via business SMS. 
For example, your team may consider offering:
A gift concierge, providing personalized gift recommendations for customers who text in 

A wrapping guru, receiving pictures of oddly-shaped gifts and recommending wrapping instructions

VIP fit or product advice, making shopping for clothes and other personal items online a little easier
These fun, helpful services will be sure to attract customers' attention—and ensure that while this year is different from those in the past, it still has something special to offer.
Need more holiday texting tips? Check out our blog.