Davies Allen is a Utah-based accounting firm founded by partners J.W. Davies and Brad Allen. They have three offices across Utah and serve clients from all across the country. Davies Allen specializes in business and personal taxes, advisory accounting, business entity set-up, and audits. Their mission is to build meaningful relationships with individuals and business owners, understand their needs, and help them succeed.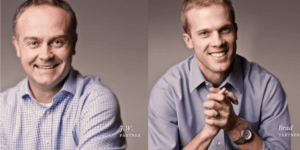 Catering to Personal Communication Styles
As Davies Allen's staff works with clients, they send them project updates and deadline reminders. These include status updates, reminders for submitting forms, links to their website for uploading documents, and deadline reminders. Emails and voicemails weren't ideal for all clients, and some required a more immediate way to be reached. Some team members began using their personal cell phones to reach clients and researching ways that they could combine their efforts to a central location that was easily accessible to all team members.
Adopting Heymarket for a Personal Touch
Davies Allen adopted Heymarket business text messaging for communicating with clients who prefer text messaging. The team member can text clients requesting specific information needed or alerts when work is completed and needs to be reviewed. They even use Heymarket to stay in touch with clients throughout the year to remind them about important tax filing dates, changes to tax laws, and considerations to plan for the upcoming year. Business text messaging has enabled Davies Allen to connect with clients in their fast-paced environment without having to rely on email and phone calls alone.
Business Texting as a Team and with Slack
Davies Allen uses Slack to increase transparency between their team members. With Heymarket, they can now get Slack alerts when clients text in with questions or updates. The client text messages appear in a dedicated channel that can leverage all Slack features. Heymarket automatically creates one thread per client, which keeps the channel secure and segmented. The entire client-facing team can read the message and the appropriate person can reply. They can even assign and close client chats from within Slack. This further increases transparency with Slack and helps the Davies Allen team shorten the time it takes to complete work for clients.
Having client facing, text message threads in Slack and Heymarket has been game-changing. – Audrey Fretz, Office Manager and Social Media Manager
With Heymarket, Davies Allen keeps their on-the-go clients involved with their taxes with their streamlined, easy-to-use texting service.