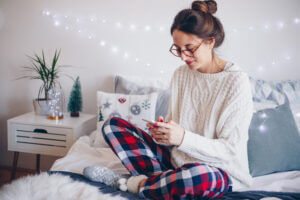 The holidays are going to be different this year—for both you and your customers. With fewer people in stores, your team is going to have to make up the difference through contactless channels. Luckily, with new strategies like conversational customer engagement, your team will find that customers are as eager as ever to purchase your products.
What Is Conversational Customer Engagement?
Conversational customer engagement is a new and increasingly popular strategy for driving repeat business. It focuses on encouraging customers to respond and engage with your brand over messaging and web chats. Because conversational customer engagement relies on two-way, person-to-person interactions, business SMS is the perfect channel to support it. 
Conversational customer engagement content can include:
Holiday operations updates

VIP gift concierge services

Personalized follow ups

Feedback requests
Read on to learn why conversational customer engagement is key to holiday sales this year. 
Customers Prefer Long-Term Contact
Conversational customer engagement is a long-term strategy. If your team starts sending interesting and interactive seasonal content to your customers in the fall, they'll be geared up for the holiday season. 
By the time the holiday gift-buying season comes along, your customers will:
Have your brand top of mind

Know about key holiday collaborations and products

Feel comfortable reaching out to your team with queries
Establishing this kind of long-term relationship will encourage customers to head to your website first when they start looking for holiday gifts. 
Customers Miss Your Retail Associates
Your customers used to do most of their holiday shopping in stores, where they could ask your cheerful retail associates about holiday deals and gift ideas. As many people will be shopping from their homes this year, your team will need to replicate that friendly service online. Conversational customer engagement empowers your team to offer real-time, person-to-person chats similar to the in-store experience.

When customers reply to your SMS customer engagement content, your team can: 
Answer their questions

Offer personalized gift advice

Follow up later with those chats
Your team members can add holiday emojis and a splash of cheer to make customers feel like they're having the in-store experience from home. 
Customers Need Help Finding the Right Gifts
Conversational customer engagement content offers true value to customers. During the holiday season, your team might send content that helps customers discover gifts for their loved ones—and invites them to ask questions. 
With conversational customer engagement, your team can:
Provide expert opinions on products and gifts

Send images and details of products

Follow up to ensure customers like their purchases and don't have more questions
Helping customers discover the perfect gifts is a great way to boost holiday sales—and ensure they and their recipients enjoy their purchases for years to come. 
Customers Will Enjoy Personalized Follow Ups
Unlike traditional marketing tactics, conversational customer engagement encourages follow ups. Once a customer interacts with your content and starts a chat with your brand, your team can follow up afterwards. 
Team members can:
Ask customers about their responses to polls

Provide more information about collaborations or new products

Circle in on past purchases and gifts
Following up with customers helps initiate ongoing, strong customer relationships. The closer customers feel to your brand, the more they'll rely on you for gifts during the holiday season—and beyond. 
Want more holiday SMS customer engagement tips? Check out our blog today.