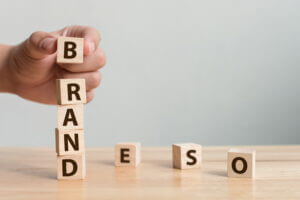 Your branding is incorporated into everything from your website to your social media accounts. You've got your logos and blurbs and color palette nearly everywhere—but there's a good chance that you haven't been branding business texts. Even if you have considered branding your texts, there's a good chance that you've missed some opportunities for additional branding. 
Why Bother Branding Business Texts?
Your customers text with their friends, family members, and even other brands. You don't want customers to get confused when they receive one of your brand's texts; you want them to know right away that it's your brand. Plus, branding business texts is an excellent way to increase overall brand awareness, so customers recognize your business when they see it elsewhere, like in print ads or online. 
5 Tips for Using Business Branding for Texting
Business branding for texting is a little different than branding for other channels. You're working with words only (for the most part) and limited screen size. Emojis aside, there's not much opportunity for color within your texts. Luckily, you can reinforce your brand just using words. Plus, if your brand uses an omnichannel business SMS platform, there are plenty of ways to include your brand's color palette and logo in integrated messaging channels. Read on to learn branding tips for SMS marketing, customer service, and sales. 
Tip #1: Use Highly Branded Channels
Modern channels built specifically for business communications can help your team increase brand awareness easily. These channels, namely Apple Business Chat and Google's Business Messages, allow you to infuse their interfaces with your branding. This simplifies the process of branding business texts and messages. 
Depending on the channel, you will be able to feature the following at the top of conversations:
Brand name 

Logo 

Color palette
When customers choose to connect with your team, they'll be directed to a messaging interface that features your logo and colors. Any messages they send will arrive directly in your shared inbox. 
Tip #2: Post a Branded SMS Widget on Your Website
There are plenty of ways to publicize your business SMS number. You can add your number to your website's contact page. You can create a banner on your website's front page. Or you can post a branded SMS widget on your website. An SMS widget is a button that customers can click to either text your brand from their phones or message from their computers. 
You can brand your SMS widget's dialogue box, including its:
Color scheme

Brand name 

Welcome message
Each of these dialogue box features is a prime chance to remind customers that they're chatting with your brand. Business branding for texting starts with small details like these. 
Tip #3: Add Your Business Name (or Details) to Opt In Keywords
In order to remain compliant with legal regulations, your team has to ensure customers opt in before you text them. Often, you'll ask them to text in a specific keyword so your business SMS platform can automatically add them to a "new customers" list and save their contact information. This is an excellent opportunity for branding business texts. 
Ask customers to text in specific keywords that are relevant to your brand, such as:
Your brand name

A product name

A reference to your industry
By using brand-related opt-in keywords, you can start branding business texts even before customers chat with your team members. (As a reminder, ask for confirmation after they text in that keyword to ensure they meant to opt in.) 
Tip #4: Insert Your Brand Tone and Name Into Texts
Your brand likely has a distinct company culture. This culture shines through everything from the day-to-day coworker interactions to the copy on your website. You may even have specific guidance on your brand tone and style. For example, you may be instructed to address customers cheerfully. Alternatively, you may be instructed to address customers in a formal, professional manner. Using your brand tone can help you with branding business texts. 
Your team can:
Use words that indicate your brand tone (e.g., words and phrases like "thanks" and "hi there" indicate a casual tone, while "thank you" and "hello" indicate a corporate atmosphere)

Include images if they are brand-appropriate (e.g., smiley face emojis at the end of a conversation)
Adjusting your texts' tone and including your brand name in signatures will make all the difference for customers. They'll be able to read one text and know which brand sent it. 
Tip #5: Include Agent SMS Signatures
You can use SMS signatures to emphasize your business's branding. For example, a corporate employee may use a formal signature that includes their business name. A startup employee may use a casual signature with an emoji. 
Consider adding the following to agent signatures:
Your company name (e.g.,

—Jane, Smiley Shoes

)

The agent's department (e.g.,

—Andy, Customer Happiness Team

) 

Personal or company culture indicators (e.g.,

—Tammy @ Game Store

🎲) 
Agent SMS signatures are an easy way to reinforce your company's branding. Remember that agents only need to include these signatures in their initial text with customers. After that, there's no need to reintroduce themselves. 
Looking for more branding tips for SMS marketing? Check out our blog.