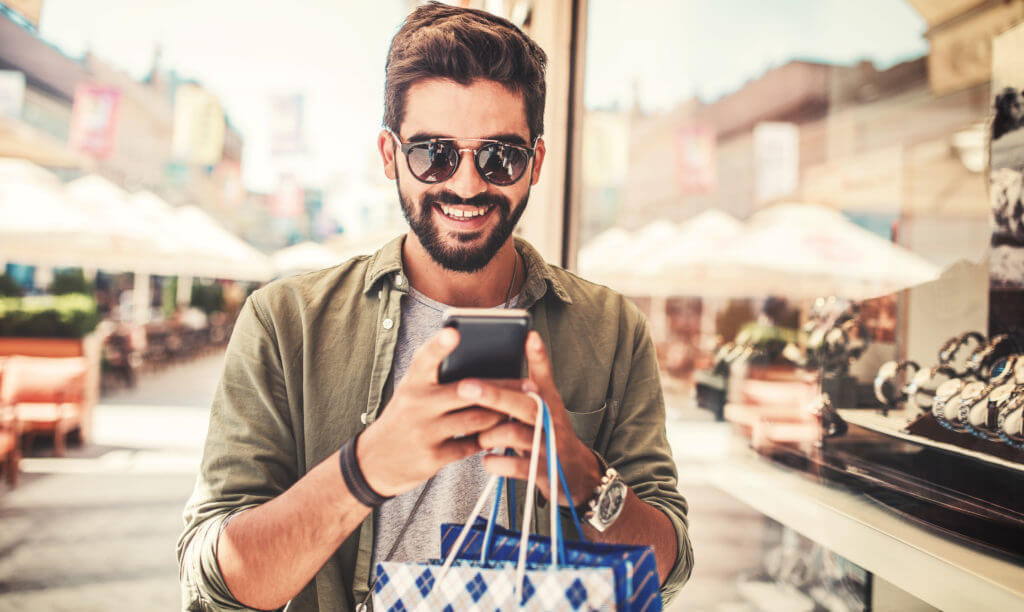 The holidays are upon us—and retailers are already feeling the pressure. Last year, total retail spending was up 5.4% to $998.32 billion. Retailers, both in the brick-and-mortar and eCommerce industries, expect just as impressive numbers this year. And many retailers are planning Black Friday and Cyber Monday text campaigns to help. 
Last year, retailers adopted business text messaging more frequently than ever before during the Black Friday/Cyber Monday shopping period. Some marketers even noted a 2000% ROI from business SMS, when they combined it with email marketing. As long as your recipients have opted in and as long as you're providing value with the content you send, Black Friday text message campaigns and Cyber Monday text message campaigns can be powerful tools during these key shopping holidays. 
Read on to learn how your business can use business text messaging to streamline—and even increase—Black Friday and Cyber Monday sales.  
Send Real-Time Black Friday & Cyber Monday Offers
While business text messaging is usually best for managing customer service queries, Black Friday and Cyber Monday are special occasions. Customers are more likely to be receptive to simple SMS sale reminders or especially enticing offers—if they are not sent too many. Because business texting has a high open rate (98%), customers are likely to open content from your Black Friday SMS or Cyber Monday text campaigns. This is a big step toward enticing them into your store or onto your website. 
Pro tip: If you choose to send sales offers or reminders via business text messaging, be sure to keep them customer-centric. Consider simply sending a notification that your store will open early on the day of or letting customers know that they are eligible for a texting-only coupon. 
Decrease the Number of Abandoned Carts 
Around 77% of online shopping carts are abandoned. Although customers abandon carts because they simply change their minds, they also ditch their almost-purchases for preventable reasons, like confusion on the checkout page. An unregistered gift card or system glitch can frustrate them enough to make them move on to another company's Black Friday or Cyber Monday sale. By offering a business text messaging widget for immediate checkout assistance, you can prevent confusion, streamline the checkout process, and lower your business's online shopping cart abandonment rate. This is a key part of any Cyber Monday text message campaign. 
Pro tip: Ensure your business text messaging widget is clearly positioned on customers' checkout pages so they know where to click and message if they need help. 
Keep Customers Up to Date with Order And BOPIS Statuses
For almost two thirds (63%) of online shoppers, the key to a good Black Friday or Cyber Monday experience is knowing when their order is expected to arrive. Customers often track their orders daily until they arrive, even sending businesses queries when they feel like they don't have enough information. Black Friday SMS and Cyber Monday text messages allow retailers to quickly share step-by-step order fulfillment notifications, so that customers always know when their sale item is on the way or when it is ready for pick up in the store. 
Pro tip: To make the process even easier on your teams, you can automate order notifications. 
Manage Delivery Services and Other Contractors 
Black Friday text message campaigns and Cyber Monday text message campaigns aren't just for customers. The shopping holiday means more sales—and more deliveries. If your business has to manage a delivery service or contractor, the influx of orders can complicate and slow down operations. However, with the help of dispatch text messaging, contractors can simply text into your administrative team for quick answers about any challenges they experience, such as problems on a delivery route and mishandled packages. They can also inform your team about issues like delays or missing items, allowing customer service agents to forward that information and consequent apologies to affected customers. 
Pro tip: With a business text messaging platform, your teams can set up multiple shared inboxes that handle separate areas of business, simplifying the process of routing messages to the appropriate agents.
Manage Increasing Questions and Returns
Increased sales during Black Friday and Cyber Monday mean more questions before and during the holiday. Customer service teams are often inundated with questions and return requests for weeks before and after that short shopping holiday weekend. Offering customers an open Black Friday text message line and Cyber Monday text message line encourages people to ask their questions in a succinct format—and allows your team to resolve their queries much more quickly than both emails and phone calls would ever allow. 
Pro tip: To encourage customers to text into your number instead of call, use call deflection strategies. 
Ask for Feedback to Prepare for the Holiday Rush
Finally, you'll want to gather feedback on your Black Friday SMS and Cyber Monday text message campaign so you can make improvements for the upcoming winter holiday shopping season, which is approaching quickly. This is a great way to learn where your business can step up—and to let your customers know that you value their opinions. With business text messaging, you can easily send your texting list survey links. Nineteen percent of consumers will click a link in a business text messaging campaign compared to just 4.2% in emails.
Pro tip: Your teams can create SMS drip campaigns that send customized feedback requests to large lists of customers en masse. You can set your campaign to automatically send check-ins to customers who don't respond after the first message.
Want more tips about Black Friday and Cyber Monday text message campaigns? Ask our team.