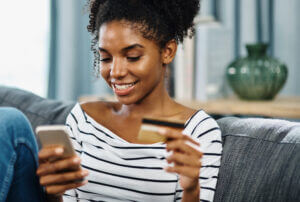 There's a good chance COVID-19 impacted your store. You may have had to temporarily close shop for a few months. You may have even permanently packed up your store and taken your inventory online. While it can be jarring to make these changes so quickly, it might be for the better in the end. 
There are 1.8 million eCommerce businesses in the U.S., and only around 442,597 brick-and-mortar stores. It's clear that there must be some explanation for why most business owners choose to set up online rather than in stores. In fact, it turns out that there are 5 good reasons. 
Let's explore the top 5 benefits of transforming your store into an eCommerce business. 
Sell to More Customers
Brick and mortar stores see a limited amount of foot traffic each day. They can only sell to locals who walk into their stores and make purchases during their business hours. It's true that tourists may be able to access these stores, but otherwise, there's no way to reach consumers who live far away. This can be a huge problem if a business relies on tourist purchases. 
eCommerce businesses are an entirely different ball game. Because your items are online, customers can make purchases:
From wherever they are located in the world (if you ship there)

At whatever time they'd like

With whatever currency they have on hand
eCommerce easily breaks through selling barriers, empowering your team to sell to more customers than ever before. 
Connect with Customers More Efficiently
Brick and mortar stores have a singular problem: offering the perfect amount of customer service. Retail managers have to ensure they're helping people who want to be helped while ensuring that they're manning the checkout counter, too. This can be a challenging balancing act—especially for stores with a limited staff. 
eCommerce opens up your communication options, allowing you to use efficient tools like business texting solutions. Business texting solutions enable you to:
Allow customers to conveniently text for help when they need it (even from

widgets

right on your website) 

Receive all messages (even those from over-the-top channels like Apple Business Chat, Google's Business Messages, and Facebook Messenger) in a single

shared inbox

, where you can answer them one by one

Follow up with customers who opt into your SMS services, using personalized

mass texts

to save time while still offering a personal touch
Tools like business texting solutions make it far easier to connect with customers—even if you're running your online store with a one-person team. 
Offer Alway-On Branding (but Take More Time Off)
Unless they have a strong online presence, brick and mortar stores do most of their brand promotion during business hours. Promoting a brick and mortar store may include creating impressive window displays, handing out samples, and passing out flyers. But after hours, stores can't do much beyond look inviting. Plus, store associates can't answer the phones when they're not there, so consumers don't hear how friendly store associates are.
Online communication channels also empower your teams to offer always-on branding to your customers, who are, one way or another, often online. You can:
Create a social media presence for free, using tools like Facebook Messenger to communicate with customers for free

Run online advertising, such as paid search, display, and social media campaigns that link to your landing page or allow leads to text in with questions 

Offer

auto-replies

for your channels, such as your business texting solution 
With always-on branding, you can promote your store outside of business hours—without neglecting your work/life balance. 
Track Your Performance Accurately
It can be hard to measure how effective your sales associates are. You can assume that the more sales you make, the better your team is at welcoming customers in and selling products. But that's too broad of a guess to be useful. You can't make any changes based on those vague measurements.
With an eCommerce business setup, your team can use your advanced online tools to measure statistics around your:
Shopping carts (e.g., Which items are being left behind and how many are left?)

Communications (e.g., How many people are texting in questions and how quickly is your team answering them?)

Purchases (e.g., How long does it take shoppers to make purchases and which are your most popular items?)
When you can track the fine details of your performance, your team can easily identify which areas need improvement. Then, you can make the appropriate adjustments and reap the benefits. 
Pay Less for a Top-Notch Experience
There are plenty of benefits to turning your brick and mortar store into an eCommerce business. The best benefit may just be that running an online store is less expensive than running a brick and mortar establishment.
When you move your retail store online, you'll pay less for:
Real estate, as all you'll need is somewhere to store your goods and prepare them for delivery

Communications, as you'll need only a few team members to run your email customer service or SMS customer service

Advertising, as online advertising allows you to reach more people without investing in a pricey store revamp or hosting in-person events. 
When you consider the benefits of an eCommerce business, you may wonder why you didn't make the leap even before COVID-19 changed the working world forever. 
Want to try out a text service for business? Our trial is free.