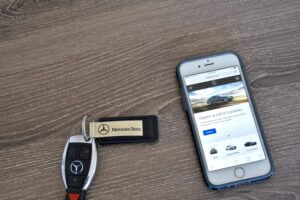 Before COVID-19, many of your customers were researching your cars and contacting your dealership online before stepping foot inside. Since COVID-19, even more have been shopping online. Contactless shopping is more convenient for leads, and it reduces the chances of virus transmission within your dealership. While some of your customers may complete the entire car-buying process online now, many are starting the process online and coming into your dealership for test drives. Your team may even feel a little overwhelmed by all of these new online customer queries. Enter automotive SMS. 
Automotive SMS makes contactless communication easy for your customers and your team. Customers don't have to download an app to get in contact. Instead, they can either message your business from their native SMS apps or over-the-top apps, like Facebook Messenger or Google's Business Messages. Automotive SMS platforms simplify the process of receiving, sending, and organizing all customer messages. 
Read on to learn how your teams can manage contactless car sales leads with automotive SMS, from capturing their information to setting up test drives. 
Capture Leads with Contactless Opt-In
Automotive SMS platforms make it easy to capture online car sales leads.
Customers don't need to walk into your dealership to get in contact with your team. They can sign up for your SMS services by clicking a box on a web form. They can also sign up by texting in with certain keywords, like SUBSCRIBE SUV. 
When you publicize your SMS services, be sure to emphasize that texting your SMS line puts customers in direct contact with the same people who are located in your dealership. This will encourage them to text rather than come in for a visit. 
Organize Car Sales Leads with Automations
Automotive SMS platforms help your teams organize online car sales leads. 
For example, team members can add contacts to lists. Later, they can send personalized mass texts to these lists. They simply create or select a template, ensure there's space left for custom fields, and click "send." The platform personalizes each outgoing text. 
Your team can automate lead capturing, too. An automotive SMS platform can be set to automatically add new contacts (who text in with the appropriate keywords) to a list. Your team may want to title this list "NEW LEADS," so they can send them relevant content accordingly.
Reach Out Automatically with Campaigns
SMS lead nurturing for car sales is efficient as well as convenient for customers (and teams) that want to stay contactless.
Your team can add each list to a campaign that automatically reaches out to leads. These messages can be sent on a schedule of your team's choice. Team members create or select the templates they'd like to send, and then indicate the schedule on which they'd like the platform to send them.
Your team should add as many personal touches as possible to these contactless messages. For example, each text should contain as many custom fields as possible. They should also include the short sign-off of your internet sales manager or an individual salesperson. This adds an in-person touch to contactless content. 
Track Effectiveness with Reports
Automotive SMS lets managers track SMS lead nurturing performance from afar, too. 
Managers don't need to meet with salespeople to determine how their online car sales leads are engaging. Automotive SMS platforms offer reports that track this information on a team-wide and individual basis. 
Managers can check statistics on team response speed, resolution time, unsubscribe rate, and other data to determine how salespeople are managing leads. They can, of course, message team members who have differing stats to discuss training and other growth opportunities. 
Manage Next Steps with One-On-One Conversations
Automotive SMS is useful for sending mass texts, but it's also a great channel for personal conversations.
When teams send mass texts from their automotive SMS platform, customers can reply individually. All incoming texts arrive in a shared inbox, where your internet sales manager can review and assign them to the appropriate salesperson. Team members can respond or allow their auto-reply to answer after hours. 
Advanced SMS lead nurturing platforms offer tools that further personalize texts, making contactless communications seem nearly in-person. For example, salespeople can add emojis, GIFs, photos, PDFs, and signatures to enrich chats. These features help add depth to conversations. 
Limit Contact During On-Site Visits with Real-Time Coordination
At the end of the day, many customers will visit your dealership to test drive potential cars and make their final purchases. Automotive SMS helps team members reduce contact during these on-site visits. 
SMS is a fast channel. On average, 98% of SMS messages are read, 90% within the first three seconds of receipt. Plus, the average response time for a text is 90 seconds. Because of this speed, SMS is a great channel for real-time coordination.
Salespeople can allow customers to wait in their cars, then text when they're ready to see them. This reduces the time customers spend in your dealership, which may be off-limits if there has been a recent pandemic or outbreak. (Or just during flu season.) Ultimately, SMS coordination helps your teams limit contact while providing the best in-person service possible. 
Want to test out SMS lead nurturing for car dealerships? Try our platform for free.