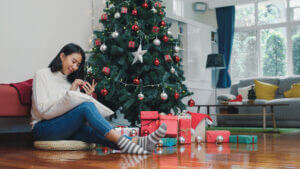 The holidays drive some of the biggest marketing campaigns of the year. Businesses spend months planning the best ways to spread cheer—and make their marketing budgets go as far as possible. Business text messaging is an easy way to amplify and invigorate holiday marketing campaigns.
Business SMS helps companies send, receive, and organize messages from leads and customers. Business SMS platforms accept messages from native SMS apps and over-the-top apps like Facebook Messenger, WhatsApp, Apple Business Chat, and Google's Business Messages. 
Ultimately, business text messaging makes it easy for leads and customers to connect with businesses and for businesses to answer their questions. 
So how can you use business SMS to boost your holiday marketing campaigns? Let's dive in. 
Let Customers Respond to Traditional Holiday Ads
Most traditional holiday ads don't encourage direct responses. 
For example, your brand may take out a magazine ad that shows an image of your newest holiday product. The ad may include your website address, but probably not your phone number. Most leads don't have time to call your brand during the busy holiday season. Plus, handling calls is time-consuming for your team.
You can, however, include your business text messaging number on holiday ads and ask leads to text in. Sending a quick text is easy for leads. Plus, your team can use your business SMS platform to manage all incoming messages with ease. You can add your business SMS number to:
Print ads

Email ads

Direct mail ads
Chatting with leads about your most recent ad is considered conversational marketing, which often has a much higher conversion rate than plain ads. Customers can make real connections with your team members as they learn more about your products and receive personalized gift advice.
Integrate Social Media and Search Ads with Business SMS
Social media and search ads are popular marketing tools throughout the holiday season. 
They make it easier for businesses to share information, collect data, and make conversions—all within your budget. Often, your social media and search ad CTAs will ask leads to visit your website or sign up to receive more information. In many cases, your team will ask for their emails. Then, you'll send them email follow-ups or newsletters. 
Consider asking customers to opt into your SMS services, too. SMS newsletters are far more likely to be opened than email newsletters. You can follow up with them throughout the holiday season, sending:
Confirmation texts

Holiday sneak-peeks

Invitations to VIP services, such as a gift concierge
Customers and leads can text your team right away through Google Ads campaigns or other ad formats. Your team should automate confirmation texts, including a campaign- or holiday-specific touch. (Consider a snowflake emoji or holiday greeting.) Then, your team can quickly send a follow-up text. Asking whether leads have any questions about an ad or product opens the door to a longer conversation.  
Send Content through Business Text Messaging
Business SMS is an effective channel for sending holiday marketing content, too. Consider modifying your current marketing campaigns for this format. 
Because business text messaging has an open rate of 98%, most content sent through the channel will be opened by recipients. Plus, it'll be even easier for leads to text in when they're already receiving holiday marketing content through a messaging channel.
It's critical, however, that your team focuses on engagement—not pure advertising. Content like coupons and deal offers might not land with customers, causing them to opt out of your services. Engagement content focuses on encouraging leads to participate and respond, ultimately building a rapport. For example, your team can send:
Product tips

Gift guides

Holiday spirit competitions

Polls
This kind of inviting content will encourage customers to reach out. Then, your team can interact with them, starting conversational marketing chats. Business SMS content campaigns, when done correctly, are more likely to increase customer engagement and, ultimately, boost your holiday sales. 
Want to learn more ways to use business text messaging this holiday season? Check out our blog.