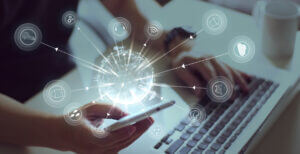 Omnichannel messaging is the future of business communications. This strategy of offering uniform, powerful customer service through a wide variety of channels is becoming increasingly useful as consumers adopt more over-the-top (OTT) messaging apps. Already, the average person uses 3 different messaging apps each week. 
Certain tools on the market can make it easier for your business to achieve a streamlined omnichannel messaging strategy. For example, business texting solutions accept all messages from both native SMS and OTT apps. These platforms collect the incoming customer messages in a central hub, where your teams can quickly reply. All replies arrive in the channel through which your customers originally sent their questions. 
With help from business texting solutions, omnichannel messaging doesn't add any friction to your team's workflow while adding more convenience for your customers. Let's walk through some other, innovative ways your team can use omnichannel messaging to improve the customer experience. 
Want to learn more about engaging with customers on their favorite channels? Check out our Omnichannel Messaging Guide.
Get the Guide
Schedule Appointments Within Messages
OTT messaging channels have been opening up to businesses for years. Now, many of them offer robust features that help your teams provide advanced service through messaging channels. Some, like Google's Business Messages and Apple Messages for Business, allow customers to schedule appointments directly through messages. 
When you allow customers to message your business through these channels, your team can:
Offer easy-to-select scheduling slots right within chats

Automate time slot reservations

Schedule appointment reminders through the channel or another channel they prefer.
Managing appointments through messaging streamlines the process for your customers and team members. Customers will be more likely to schedule (and remember) appointments without extra work on your team's behalf. Encourage customers to use this feature by publicizing these special messaging channels on your website or social media. 
Enable In-Message Browsing
Some customers contact your business because they want to get to know what you're about. This is especially the case if you offer a wide variety of products or services—or if you sell higher-cost items. Your team members have to explain your products while sending relevant links, which take customers away from the chat.
Channels like Google's Business Messages and Apple Messages for Business allow customers to browse products and services from within the chat while they message with your team members. Customers can:
Swipe through various product or service images

Review multiple descriptions at once

Quickly ask team members questions about what they're seeing. 
Keeping product exploration within a single channel ensures that your team members can lead conversations and help customers make informed decisions about their purchases. 
Process Message-Based Payments 
Customers are increasingly comfortable with paying for products online. As messaging channels become more reliable for business-to-consumer communications, message-based payments are becoming popular, too. 
Certain messaging channels, like Apple Messages for Business and Google's Business Messages, offer secure messaging payment systems. Customers can:
Elect to make purchases while messaging agents

Make payments directly through chats

Check chats for payment receipts and any follow-up information. 
Message-based payments make it easy for customers to pay right when they've decided to make a purchase, or directly after they receive a service. Encouraging message-based payments also ensures that customers will follow through with a purchase they want to make, instead of accidentally forgetting it.
Triage Customer Requests Between Channels
An omnichannel messaging strategy allows your teams to offer a wide variety of channels with their own unique benefits. Your teams can also use a fully connected omnichannel messaging system to triage customer requests and ensure they're going to the right channel in the first place. 
With a streamlined business texting solution, your teams can:
Receive messages through any channel, then route them to appropriate agents 

Suggest customers use channels that fill their needs (e.g. make a call instead of texting to discuss a complex product issue) 

Emphasize certain channels for certain purposes (e.g. encourage texting for small issues).
Triaging customer requests ensures customers get the kind of service they need, right when they need it.
Allow Customers to Reach Your Brand at Any Point in Their Journey
Ultimately, offering a wide range of interconnected channels ensures customers can reach your brand wherever they are in the customer journey.
For example, if your business supports Google's Business Messages, customers can text your brand right when they're on Google Maps looking for nearby businesses. They can immediately reach out to ask your team questions about your location or services. Offering other channels, like SMS and Facebook Messenger, means customers can connect with you when they're looking up your brand specifically. 
Offering this wide range of entry points ensures that customers know they can connect with your team wherever they are on their path to discovering your business. 
Want to learn more about engaging with customers across all popular messaging channels? Read our omnichannel messaging guide.