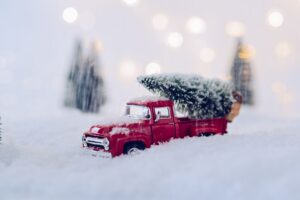 This holiday season, more customers will choose a curbside pickup option than ever before. While this will reduce in-store traffic for your business, there are still potential concerns for customers picking up their presents—and your employees who manage the process. 
Business SMS is the perfect option for safe, contactless customer communications during this busy time of year. It's a channel customers know and love, which means they'll be happy to reach out through it. In fact, Americans already spend about 26 minutes each day texting. 
Plus, business SMS platforms make texting easy for your teams. Your team can send texts to individuals or lists, using templates to personalize mass texts with order numbers. Any replies will arrive in a shared inbox, where your team can quickly answer them.  
So how can business SMS keep your holiday curbside pickups safe? Let's dive in.
Remind Customers About Safety Procedures
Texts have an astonishing 98% open rate. In other words, customers are very likely to read content sent through SMS—even if they're busy baking for family gatherings or watching holiday films. This is critical when you need to share important information, like your safety procedures. 
Safety procedures help keep your team and customers safe as we navigate the pandemic together. Because safety procedures are new this year, it's important that you remind customers of them before they pick up their presents.
Your team can include safety information within curbside pickup ready alerts. A ready alert may include:
Order number confirmation

ID requirements

Location details

Reminders to social distance and wear face coverings
Sharing this information through a channel with a high open rate is the best way to increase the chances that customers will follow the correct procedures when they arrive at your store.
Reduce Your Team's Exposure
Business SMS is the perfect channel for real-time coordination. In fact, 90% of texts are read within the first three seconds of receipt, and the average response time for a text is 90 seconds. If customers have questions about your curbside pickup process, they can quickly text your team and resolve the query.
It's a good idea to encourage customers to text with all of their questions. This way, the only interaction they'll have with your team is when your team members hand them their packages. Reducing person-to-person exposure—especially in-person conversations—is one of the best ways to prevent exposure to any particles. 
Your team can encourage customers to text with questions about:
Order status

Pickup locations

Return information
Moving nearly all customer communications to contactless business SMS instead of in-person helps keep everyone safe.
Eliminate Long Lines at Pickup
This year, there will be a lot of customers choosing the online curbside pickup option. As such, there will be a lot of customers heading to your store to collect their presents—and, as likely as not—coming around the same times. 
Because business SMS helps your team provide a smooth pickup process, it's less likely that customers will spend time hanging around your pickup area, asking questions. Plus, you can even use business SMS to coordinate on-the-fly appointment-style pickups when your team knows the lines will be long.
If your team chooses to use appointment-style pickups on especially busy days, you can send customers:
Time slot choices and confirmations

Responses to texts that customers have arrived

Ready-at-the-front notifications
Business SMS makes curbside pickups during the busy holiday season a seamless experience for customers—and your team. A streamlined process helps ensure that lines are short, reducing the chances of exposure as customers gather to pick up their loved ones' gifts. 
Want to learn more about using business SMS for curbside pickup? Check out our blog.