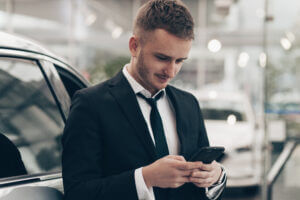 The faster you can chat with a lead, the more likely you can get them to test drive a car. The more quickly they test drive a car, the more likely they'll buy it. This need for speed is why it's so important to have a streamlined auto sales process. Enter SMS automotive dealer texts. 
An SMS automotive platform empowers your sales team to send, receive, and manage customer texts and over-the-top (OTT) messages. With help from efficiency tools like assignments, templates, and lists, your teams can organize and answer leads faster than ever before. 
Read on to learn how to use SMS automotive tools to optimize your sales process and convert more leads to customers. 
Step 1: Use a fast lead communications channel.
First and foremost, your sales team needs to use a fast communications channel that leads actually like to use. While email is a popular choice, it has an open rate of about 20%. Plus, the average response time is nearly two hours. If leads answer your emails, they're going to take a while to respond. Even if they reach out first, it may still take them a while to reply to your team's response. 
SMS automotive dealer texts are bound to receive faster replies. The channel has a:
While calls are also fast, 90% of leads prefer texting and messaging to calls. They simply don't have time to stop everything and answer the phone. Using SMS automotive dealer texts expedites lead conversations but also respects their time, allowing them to answer your messages whenever they'd like.
Pro tip: Encourage more leads to text your dealership with call deflection. Feature your SMS automotive number on your social media, webpages, and other channels. 
Step 2: Assign incoming chats. 
Once leads start texting your SMS automotive number, your team members can see each incoming message in a shared inbox. The inbox also accepts messages from native SMS apps as well as OTT apps, like Facebook Messenger, Google's Business Messages, and Apple Business Chat. There are a few ways team members can work with the incoming messages, but assignments make the process easier. 
Teams can choose to:
Leave all chats unassigned, so each salesperson receives chat activity notifications

Have salespeople assign chats to themselves, so they can focus on one or two chats at a time

Use managers to assign chats to salespeople, so they can ensure each salesperson receives an equal number of leads. 
Automotive teams often prefer to either empower salespeople to assign chats to themselves or have managers assign chats. This way, salespeople track their own leads and avoid becoming overwhelmed with notifications. 
Pro tip: Teams can also program their SMS automotive channel to automatically route messages by keywords. For example, messages that contain the words "Model X" can be automatically assigned to a Model X specialist. 
Step 3: Use workflows to follow up.
Leads aren't thinking about buying a new car all the time. Sometimes they need a little reminder about a car or product they were interested in. SMS automotive platforms offer plenty of automations to help your teams organize leads and follow up with them, too. 
Your teams can:
These automations reduce the steps your salespeople have to take to maintain up-to-date data, follow up with leads, and ensure that they offer top-notch, fast service at all times. Reducing friction in the sales process empowers your teams to spend more time on what really matters—making strong connections with leads. 
Pro tip: Use custom fields as much as possible. They are especially useful with mass texts and SMS drip campaigns. When you leave space for custom fields in templates, your college SMS platform will automatically insert recipients' information into outgoing texts. 
Want to use auto SMS to optimize your sales process? Try our platform for free today.