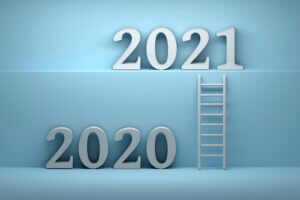 As we close out 2020, it's time to look forward to 2021. We're all hopeful that it'll be a better year, but one thing's for sure: it's going to be the best year yet for messaging. We expect to see more people messaging than ever before. We also expect to see more businesses using messaging to communicate with customers. 
Since early this year, we expected to see messaging grow in the future. It has been steadily growing more popular. Large businesses like Google and Apple have opened business-focused messaging channels. But COVID-19 is the unexpected factor that we now think will help messaging skyrocket to unexpected heights. 
Read on to learn why we think 2021 will be messaging's biggest year yet. 
Consumers Are Messaging More and More
In the past decade or so, the number of messaging users has increased rapidly. It's a common channel now and, in many cases, consumers' preferred channel for communication. 
In part, this is because consumers have more options than ever before. If one channel doesn't work for them, they can easily find another. Consumers can easily access both native SMS and new over-the-top (OTT) messaging channels. Popular OTT messaging channels include Facebook Messenger, WhatsApp, Line, and many more. 
Even now, the statistics show that messaging is a powerful and popular channel. For example:
The trend of messaging popularity doesn't seem to be slowing down anytime soon. At this rate, its popularity will continue to grow until each and every consumer around the world uses one channel or another. 
Messaging Channels Opened Up To Businesses In 2020
Here's another reason we think 2021 will be messaging's biggest year yet: business-centric messaging channels are normalizing business-to-customer texting. 
In 2020, two tech giants released messaging tools built specifically for businesses and their customers. These tools are:
To improve the business messaging experience, both channels offer unique tools, like branded interfaces, in-app payments, and configurable images, texts, and buttons. 
Other messaging channels are introducing business features, too. For example, WhatsApp Business added QR-code reading and catalogue sharing capabilities in 2020. Facebook Messenger for Pages began offering a consolidated inbox for businesses, helping them streamline their multiple messaging apps. 
Companies will adopt these messaging channels at a faster pace in the upcoming year. As consumers realize how convenient communicating with businesses by messaging is, they will start messaging them more often.
We Will Still Be Social Distancing In 2021
All of these factors will be compounded by the fact that we will all, more likely than not, be social distancing in some form or other in 2021.
Businesses will need to find a way to make personal connections with customers on a large scale. As such, we expect that there will be a growing demand for effective, fast, and convenient contactless communications. 
Messaging—business text messaging in particular—is the perfect answer to this demand. For example, teams will find that:
Business text messaging's high open and engagement rates are key to effective contactless communications. Expect to see it gain ground as scientists work on a COVID-19 vaccine—and afterwards, when most consumers will have experienced just how convenient a channel it is.
Want to hear more 2021 predictions? Check out our blog.