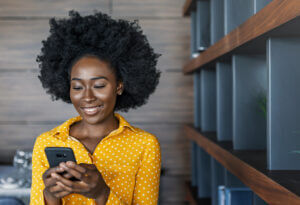 Business SMS is a powerful tool. It allows your teams to send mass texts personalized with contacts' key information, like their names, order numbers, and loyalty statuses. Adding this personal information is a great way to catch leads' and customers' attention, but there's a lot more your team can do to make sure recipients know that your texts are coming from humans, no bots. Take SMS signatures, for example.
What Is a
Business
SMS Signature?
An SMS signature is similar to your email signature. It's a sign-off you can add so leads and customers know exactly who they're texting. Like your email signature, your business SMS signature can include your name, department name, and your title. Depending on your company's culture and branding, you may even want to add a personal touch like an emoji. 
In some cases, a company may want its employees to use a single SMS signature for the entire department or business. This is a more broad signature that an entire team uses. It's less personalized than an individual SMS signature. 
Why Is a Business SMS Signature
Useful? 
Business SMS signatures don't just let leads and customers know who they're chatting with. They show that the person on the other end of the line is a human, not a bot. When contacts know that they're connecting with another human on the other end of the line, they're more likely to read your content, engage, and even convert. 
SMS signatures can also emphasize your business's branding. For example, a more formal signature might indicate a corporate brand. A more personal signature might indicate a millennial-focused startup or mom-and-pop establishment.
When Would You Use an SMS Signature? 
Business SMS signatures belong at the end of texts. While you can add them into every text you send, it may be more efficient to include them in every first text you send. If customers start a conversation after that initial text, they'll know who they're texting and you won't need to add your signature again. 
Here's what a signature at the end of a text might look like:
Hello Jane! Thanks for signing up for StarSoftware's Loyalty Program. Please text me with any questions you have about your new membership. Text STOP to stop receiving texts. —Sam, Customer Service Agent 
SMS Signatures for Employees at Traditional Corporations
Most traditional companies or corporations ask customer-facing employees to use a reserved tone. If you work for one of these businesses, you'll want to use a straightforward, simple SMS signature. Here are three examples: 
—Tammy, Dental Assistant
—Janet, Client Care, Jones & Jones LLC
—Craig, Sales Manager for PuzzleCorp  
SMS Signatures for Employees at Startups
Startups often ask employees to maintain a professional yet friendly tone. Sometimes, they may allow team members to personalize signatures with their (manager-approved) own personality. If you work for one of these businesses, you can add some personality into your SMS signature. Here are three examples: 
—Jacklyn, Customer Happiness Associate 🌼 
—Tom @ Modern Furniture
—Andrew Forsythe, Insurance Team Lead 🧔
SMS Signatures for Employees at Mom-and-Pop Stores
Local, neighborhood stores are known for their individuality. If you work for one of these businesses, you may be allowed to highly personalize your SMS signature, adding to the small-business appeal of your store. Here are three examples. 
—Joe, Owner at Joe's Auto
—Alice, your fabulous hairdresser
—Your Local Game Guru 🎲
SMS Signatures for Businesses
Like individual employee signatures, an SMS signature for business can also indicate your company's branding. Here are three examples. 
—Smith & Weston Electrical Management
—Your friends @ SunEnergy Startup 
—Pigs & Such BBQ 🐖
Want to learn how to welcome customers to your SMS services? Interested in seeing more templates? Check out our SMS template resource page.