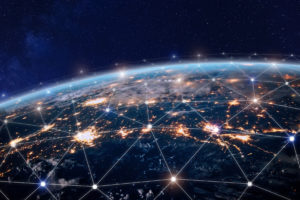 Business text messaging's efficiency and popularity have been proven through studies and statistics time and time again. For companies new to the channel, it can also be helpful to see how world-class enterprises have implemented it into their own processes. 
Brands both big and small use business text messaging, but the bigger companies are often early adopters. From Delta to Chipotle to Costco, established businesses in various industries have been taking advantage of business SMS for years. They use it for everything from news alerts to verification. 
Read on to learn which companies are fans of business text messaging—and how they make the most of the channel. 
CNN
CNN uses text messaging to connect with ardent news-watchers who like to be in-the-know at all times. Those who opt in to their CNNtoGO services can receive regular alerts about all breaking news or priority articles. Their text messages often include links, so that customers with smartphones can immediately read and share the corresponding article.
Delta
Delta's automated system sends passengers critical travel information that can't wait. Once passengers sign up to their Delta Messenger program, they can start receiving schedule changes, cancellations, and other timely information. (Plus, they're adding a new customer service messaging option through Apple Messages soon.)
IKEA
IKEA is known for its convenience, and their loyalty program is no exception to the rule. IKEA Family prioritizes business text messaging for fast customer communications. Customers can choose to receive most of their communications through SMS, including their loyalty cards, loyalty-related coupons, and new product updates. 
Tommy Hilfiger
Fashionistas are not immune to the draw of business text messaging. Tommy Hilfiger offers fashion-forward customers a VIP Tommy Hilfiger Mobile Service. After opting in, shoppers receive regular mobile alerts about sales and new products. Reportedly, Tommy Hilfiger sends no more than 10 messages each month. 
Warby Parker
Always on the forefront of innovation,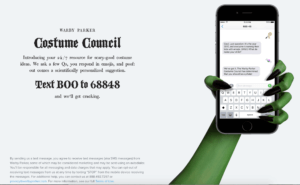 Warby Parker has adopted business text messaging as a customer service tool. Customers can quickly text into their SMS number to get help with prescriptions, health insurance, ordering, returns, or exchanges. Sometimes, Warby Parker goes for fun, too. In 2017, Warby Parker let customers text into their "Costume Council" to receive fun costume suggestions. 
Chipotle
Chipotle Rewards relies heavily on business text messaging for smooth operations. After customers opt into the rewards program, download the mobile ordering app, and set up their orders, they can opt in to receive Chipotle's text message marketing communications. Diners who do receive regular deals and sweepstakes information. 
Starbucks
The Starbucks Rewards program has been a big success, in part because of its use of SMS. Customers who opt in receive order notifications, SMS deals, and other relevant alerts. They can also send in receipts for rewards, receive a verification text for account authentication, or send someone an iMessage with a gift card. 
Square App
Square, a popular business software solution, offers Square Loyalty for its merchants. When merchants provide this program to their customers, customers opt in by providing their phone numbers. Customers can use SMS to track their loyalty points and redeem the treats that they have earned.
Costco
Multiple Costco departments offer business text messaging alerts. For example, Costco Pharmacy will allow members to request refills through SMS, let them know when the order is approved, text them when medications have arrived, and remind them to pick up their medications after a certain period of time has passed. 
Facebook
We've always said that social media pairs well with business text messaging, and one social media giant certainly agrees. Facebook offers users a multi-use program called Facebook Texts. After opting into their SMS program, users can receive texts directly from Facebook, including password help or notifications about Facebook activity. 
Ready to join the ranks of these big companies? Try our business text messaging platform for free today.