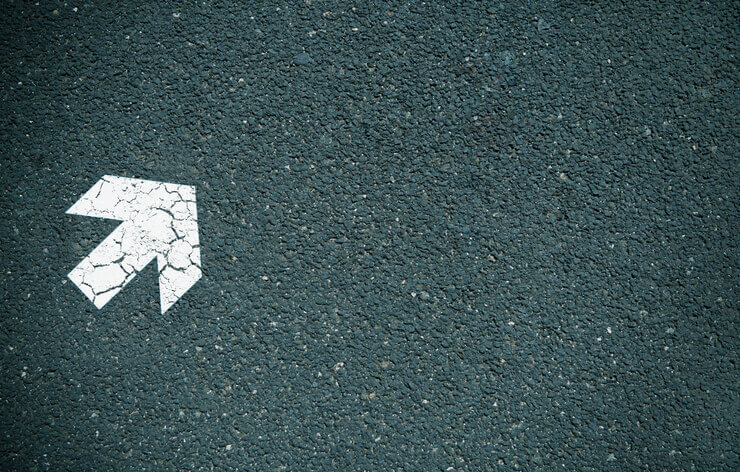 Your client keeps texting your phone, and even though they're asking great questions, you need to collaborate with your team for the answers. Ideally you could share these texts back-and-forth with your whole team so they can be updated on the client's concerns, make suggestions and better work on a solution simultaneously. But other than taking a screenshot and Slacking everyone photos of the messages, you're not sure how to do it. Sound familiar?
Sharing important texts is one of just many reasons you may need to forward a text to another number, email address, or even a team platform, like Slack. The process isn't easy, however, and it can seem like your options are limited—especially if you want to forward a message to a group of people.
This article will teach you what an SMS forwarder is, when you need one, and what other options there are for sharing texts with your team.
What Is SMS Forwarding?
SMS forwarding is pushing your text messages to another destination, like a phone number, email address, or even a business app like a CRM system or internal messaging tool.
An SMS forwarder, or SMS auto forwarder, is a third-party app that forwards texts from a personal phone. It can send the texts to another phone number or an email address. Often, this tool will also allow you to set up notifications that alert you when a message is forwarded. Popular options include AutoForward Text and Phone Leash.
When to Use an SMS Forwarder
If you're considering purchasing an SMS forwarder app, you want to be able to use it multiple times. It might come in handy in several situations at work: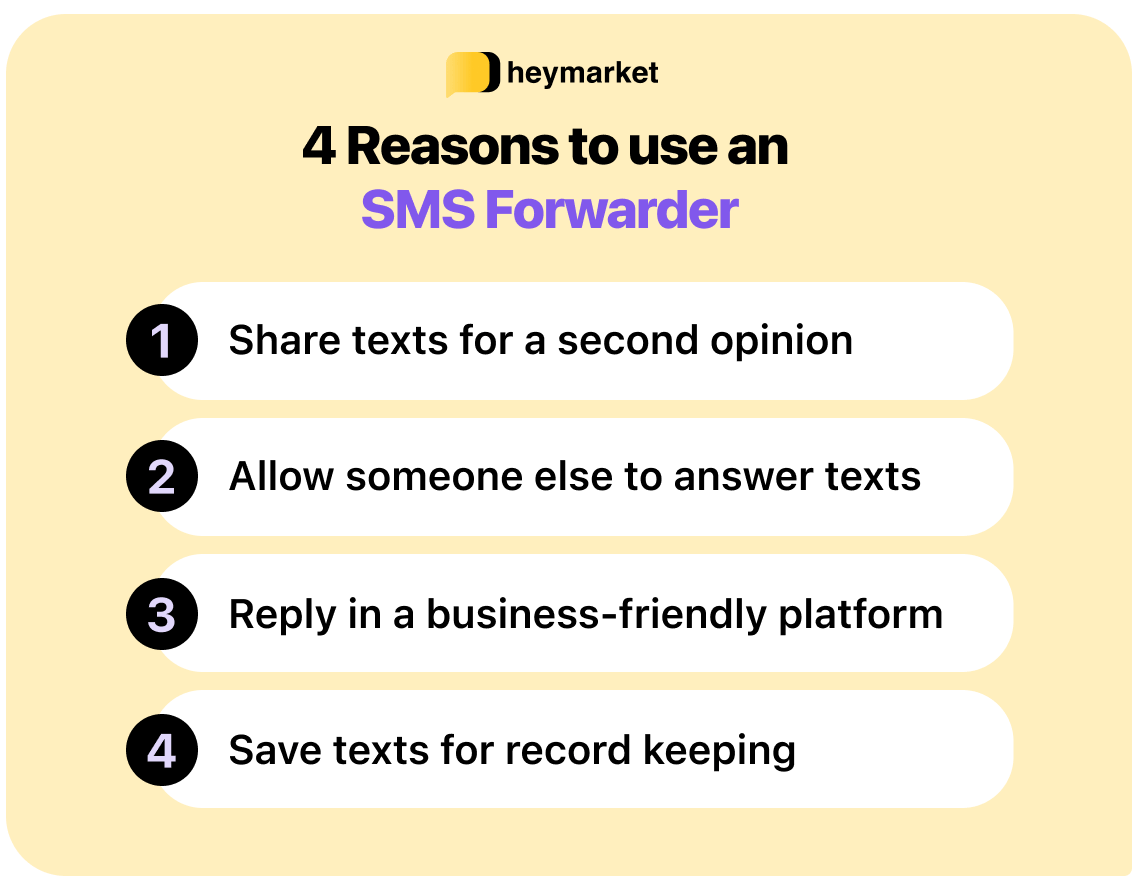 You need to share texts for a second opinion.
Sharing texts ensures that your entire team is on the same page. It also allows you to get a second opinion on answering a message. Another set of eyes on a message can be important, especially if it's from an important client or business partner.
You want someone else to answer the incoming questions. 
Just because you received a message on your phone doesn't mean you're the most qualified person to answer it—or that you have the time. Forwarding texts to a business line, email, or platform allows other team members to answer a customer's or business partner's questions.
You'd rather answer the text on a business-friendly platform. 
Typing out answers on your phone can feel uncomfortable. You're prone to make mistakes on a tiny screen too, and editing isn't as easy without a mouse or trackpad. Forwarding messages to email or business app makes it easier to read and reply to them.
You need to keep records. 
Having a record of texts stored safely can help if you (or a team member) leaves your company. With a record of past texts, a new team member can easily continue old conversations. Alternatively, you may need to keep record for messaging compliance purposes.
Other Options for Forwarding Text Messages
In addition to basic SMS forwarders, there are other tools that will auto forward text messages for you—even some SMS forwarder online options for your business apps. They may also offer other features that make it easier to read and reply to texts. Each will suit different business needs:
Business Texting Platform
A business texting platform offers a more advanced SMS forwarding service. When you set up a business texting platform, all messages sent to your business accounts arrive in a shared inbox. This includes texts as well as messages from Facebook Messenger, Instagram Messenger, WhatsApp, Google's Business Messages, and Apple Messages for Business.
You can also set up additional SMS integrations, which forward messages from your shared inbox to another business app. Integrations exist for all of your favorite business apps, including Slack, HubSpot, Salesforce, Shopify, and more. With help from the SMS integration, you can both read and reply to messages within all of these platforms.
For example, a Slack SMS integration allows you to forward texts directly to a Slack channel of your choice. Then, you or your team members can reply to those texts right from within that Slack channel. Customers will receive replies through their texting apps.
In addition to offering advanced routing options, business texting platforms provide access to tools that make it easier to answer more incoming texts, faster. For example, you'll be able to use templates to answer FAQs quickly. You can even set up automations that answer those FAQs for you. Texting platforms also automatically log messages, and allow you to export chats for compliance and record keeping.
Microsoft Teams
Your favorite business apps also have their own SMS forwarding tools, though these are generally limited in scope. Microsoft Teams, for example, allows you to chat with customers who are participating via SMS. In order to do so, however, you have to send customers a Teams invite. Once they join, they can participate in the conversation through text.
Salesforce
Salesforce also offers limited texting tools. You can text from Messaging in your Service Cloud, for example. You'll follow setup instructions, including routing texts that go to your business line through to Salesforce.
Conclusion: When to Choose an SMS Forwarder
An SMS forwarding service can be useful in several situations. But how do you know if you need an SMS forwarder or something a little more complex?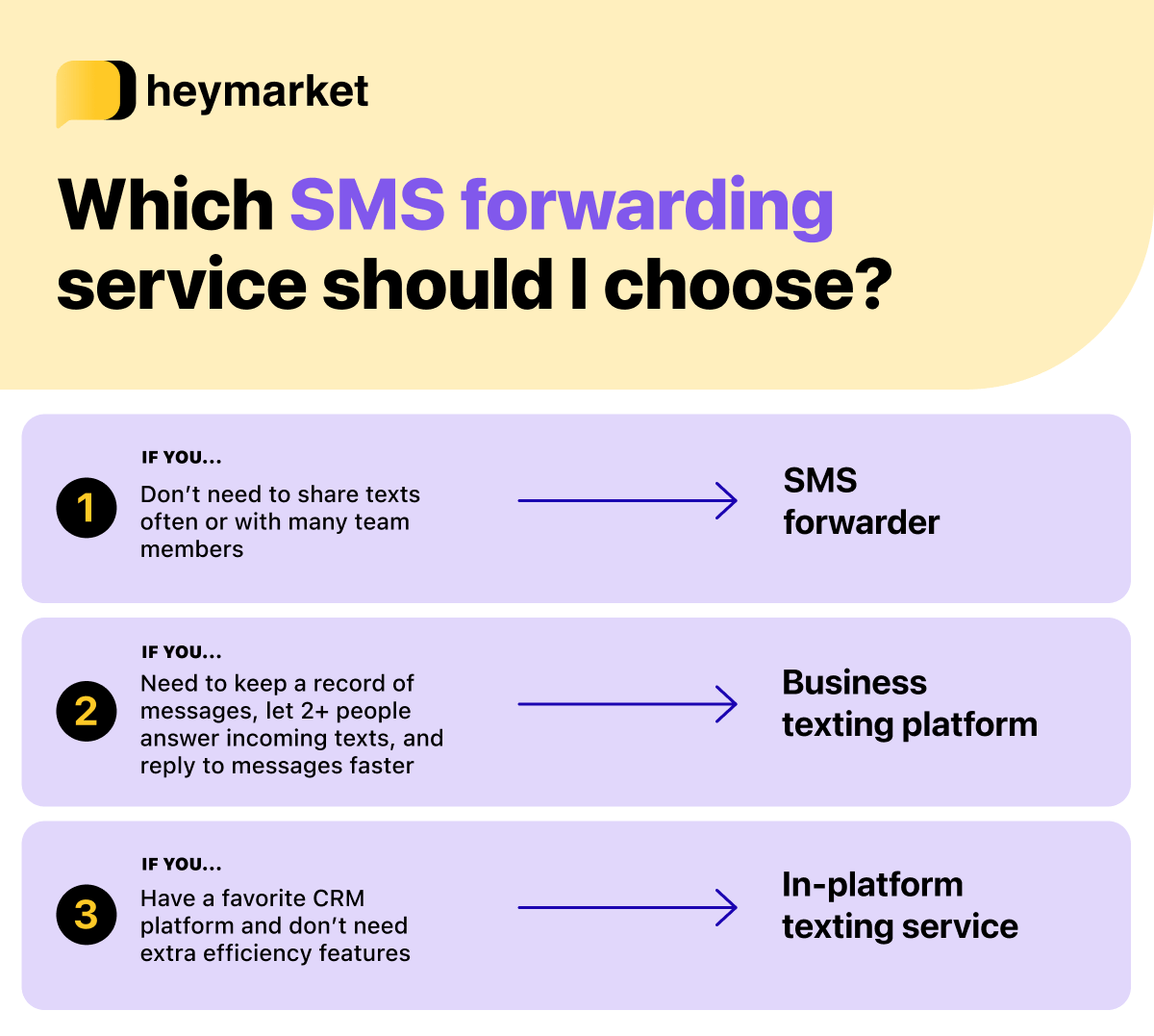 If you don't need to share texts often or with many people…choose an SMS forwarder. If you only need to share the occasional text with a single team member, you don't need anything more than this simple tool.
If you need to keep a record of messages, let 2+ people read or answer incoming texts, and answer messages faster…choose a business texting platform. With so many tools in addition to an SMS forwarding service, a texting platform can help improve team collaboration and manage incoming texts more efficiently.
If you don't need to answer messages faster and have a favorite third-party platform…choose an in-platform texting service, like those we explored for Microsoft Teams and Salesforce. If you don't need a lot of extra features, these can be effective tools.
Ultimately, the kind of SMS forwarding service you choose comes down to what your business needs are. Whichever you choose, there are plenty of options available to get your texts in front of your team members.