For many brands, parents are an important target market. They don't just provide their children with guidance and support, they fill their lives with stuff—and plenty of it. From diapers and onesies to snacks and school supplies, parents are active consumers.
Yet reaching parents is often easier said than done. Because while parents might be busy buying things, they're also just plain busy.
So, how do brands cut through the noise, clutter, and controlled chaos of families' lives to drive  real connections and conversions? Find those answers and much more in this guide to marketing to parents.
How to Market to Parents: Where to Start
When 40% of U.S. households have children, it's no wonder why getting parents' attention is top-of-mind for marketers. However, while they're touted as one of the most-prized audience segments, they're also an incredibly diverse bunch.
From new parents to established ones, this audience of consumers is composed of multiple generations. And the families they've created come in all shapes and sizes. As the Washington Post declared in 2015, "There is no 'typical' U.S. family today." In light of this, businesses need to develop an approach to marketing to match.
Approach today's families with a one-size-fits-all approach, and you risk being left behind. That's why, below, we offer a range of tips and resources on how to reach specific sets of this wider audience, including new parents, millennial parents, and families with older children.
Reaching New Parents
The moment someone becomes a parent, their whole life changes—and so should the way they're marketed to. Here's how businesses can best connect with those who just brought their first baby into the world.
Acknowledge the difficulties of parenthood
There's no way around it: the early days (and years) of parenthood are tough. Brands can't give new parents those hours of sleep they so crave. But they can connect with parents by acknowledging the realities of their new lives and by offering products adapted to their needs. Talking to groups of new parents, Facebook researchers found parents didn't want any sugar-coating from brands. Instead, they want brands to authentically reflect their struggles in their marketing and to directly address concerns about safety and reliability.
The travails of parenthood are portrayed succinctly—and with a dash of good humor—in Campbell's Soup's "Made for Real, Real Life" campaign. In one ad, a mother navigates her cart and two small children through grocery aisles as an announcement warns of a huge snowstorm, road closures, and school cancellations. The mom stocks up on just what she needs to get through the ordeal: a healthy number of tomato soup cans, along with some red wine just for her.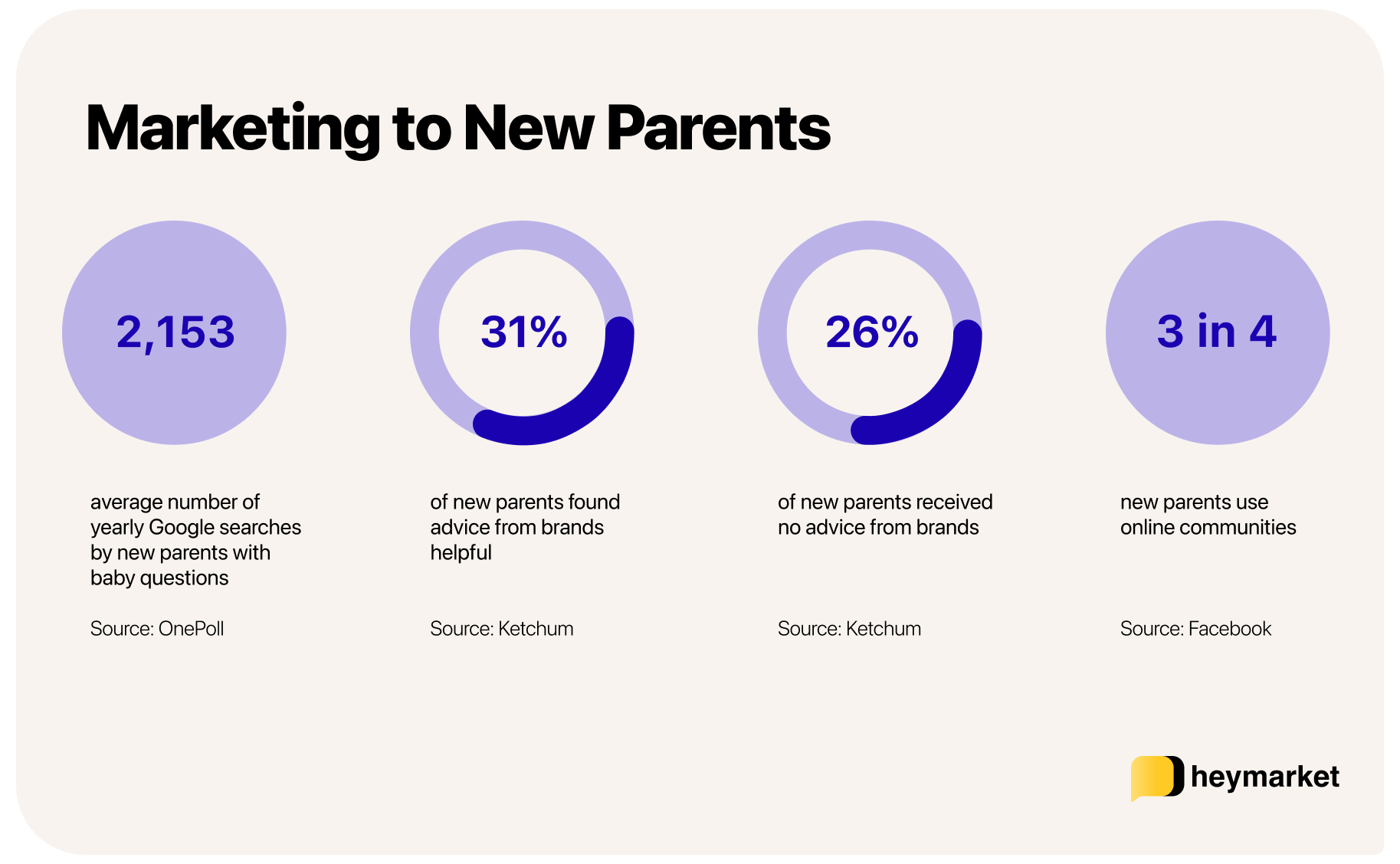 Win on price and effectiveness
Though authenticity goes a long way, at the end of the day new parents care most about two critical factors when they shop: how much it costs and how well it works. When new babies come with all sorts of new expenses, it's no wonder that new parents tend to be less loyal and more price-conscious shoppers. To bolster your chances of success with them, couple your authentic messaging with special offers and savings. Meanwhile, build the case for your products' effectiveness by showcasing real reviews from real parents who have enjoyed your offerings.
Building community is key
For parents, especially new ones, community is incredibly important. The early days of family life can be isolating, and many expecting and new parents (three in four, according to one survey) turn to online communities to help. That's why for brands looking to reach these new parents and provide support, maintaining a consistent, responsive presence on social media is critical.
However, brands don't necessarily need to play an outsized role in these communities. Rather than lead conversations on their social channels, brands can play an important role by simply facilitating conversations and connections between other parents. Providing relevant content and, above all, a supportive space for parents is among the best ways to build trust and keep potential customers coming back.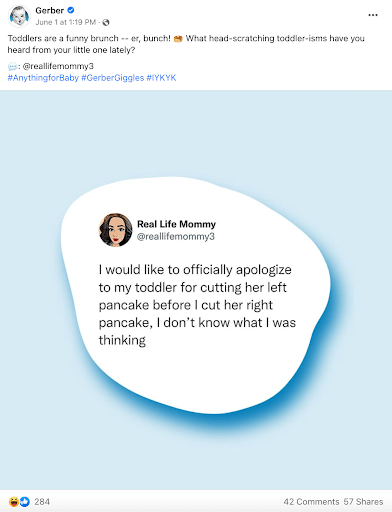 Of course, as Gerber shows, it doesn't have to be all serious all the time. Amid product updates and supportive content, the baby food brand engages parents with fun prompts that get the conversation going and lighten up the feeds of its millions of followers.
Marketing to Millennial Parents
Statistically speaking, there's a good chance that when you're marketing to parents, you're actually marketing to millennial parents. Born between the early 1980s and mid-1990s, if they haven't already, more and more millennials are reaching peak parenting age. And now, they're parents to more than half of the world's children.
But millennial parents aren't just like their own. Bringing different experiences, habits, and preferences to table, they're redefining what it means to be a parent—and changing how businesses need to reach them.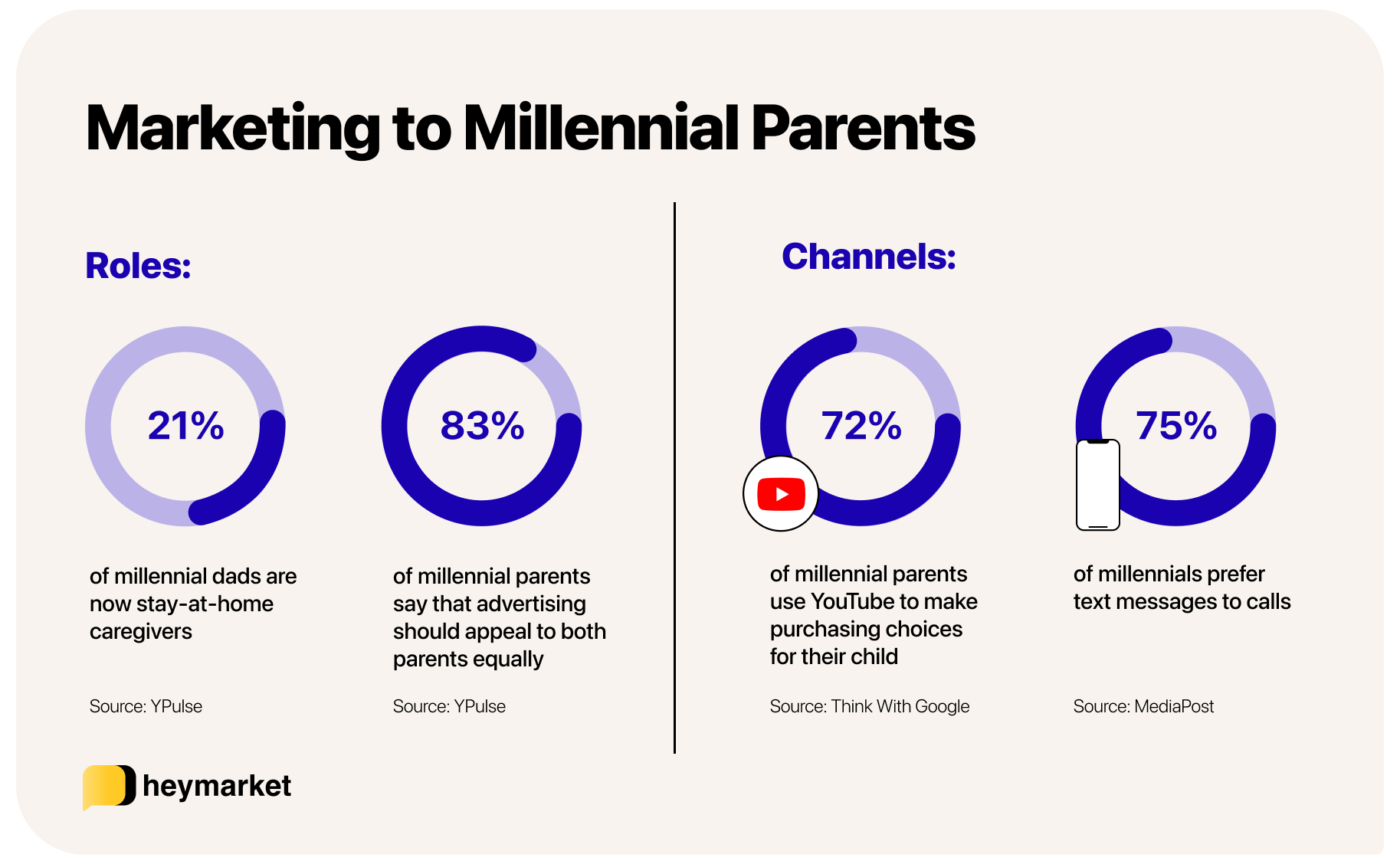 Know who you're talking to
One way the latest generation of parents is shaking things up is by overturning traditional gender roles and norms, particularly when it comes to who's providing care. Millennial dads tend to play more active roles as caregivers, including becoming full-time stay-at-home dads. According to a 2015 survey, 21% percent of millennial dads were stay-at-home caregivers. This trend appears to have gathered steam during the pandemic.
As a result, advertisers can no longer gear their messages solely toward moms. 83% of millennial parents believe advertising should appeal to both mothers and fathers equally.
Provide support over video
It's not just who marketers should be engaging with that's changing with millennials, but how. This generation is as tech savvy as they come, and they expect brands to engage with them their way, on their preferred devices and channels.
Parents have always sought advice and products to make their lives easier. More and more, though, today's parents rely on familiar internet sources to find this info. It's no surprise then that the generation who grew up on YouTube is continuing to rely on the platform during parenthood.
Much more than a staple in the Millennial generation's entertainment diet, 72% of millennial parents say they use YouTube to help them make better purchases for their children. Plus, three in four also say they're open to hearing from companies on YouTube while they seek guidance on parenting topics. That means brands can market to parents on YouTube not just with well-placed advertisements but with thought leadership content of their own.
Take baby formula-maker Enfamil's YouTube channel, for example. In addition to stories and reviews from real-life parents, Enfamil offers a variety of parenting tutorials and expert advice from pediatricians.
Take advantage of texting
Another channel businesses can't afford to neglect is text messaging. Parents or not, millennials' love of texting is well documented. 75% of them prefer texts to talking on the phone. After all, it's convenient. Texting allows people to read and respond to messages on their own schedule, without the disruption of a voice call.
When parents are juggling all their obligations, this level of convenience is exactly what parents need. However, too often companies aren't providing it. The same study found that even though 75% of millennials think text reminders from businesses are helpful—including product offers, coupons, and appointment reminders—just 30% are regularly receiving them from the companies they do business with.
Marketing to Families with Older Kids
Marketers need tools in their arsenal to reach parents of all types, including those who aren't new to the world of parenting. Use these tips to connect with families with older kids.
Craft your marketing for parents as well as kids
The older kids get, the more likely it is that your business will be tailoring its products and messaging to meet their needs and wants, not just their parents'. However, it's important to keep in mind the perspective of parents because, in the end, they're often still the ones with the final say (and footing the bill). Incorporate family imagery where possible, and be sure to simplify matters for curious parents by making it easy to find information on health and safety.
Successfully Target Generation X
As we cover in our guide to marketing to Generation X, the generation that came before millennials is now just as savvy with today's tech. But that doesn't mean they have the same habits. Target this older generation of parents—who hold serious spending power—with a blend of the traditional and digital: find Gen X parents online on Facebook and YouTube instead of TikTok and Snapchat, and don't neglect direct mail and traditional TV.
Offer an Emotional Appeal
Even though they might not miss the sleepless nights, there's no shortage of parents who miss the days when their kids were still their little ones. Handled correctly, this sense of nostalgia can be a powerful tool for marketers trying to reach the parents of older children. Use your marketing to hearken back to how things used to be, as well as how far parents and their children have come. All the better if you can show them how far your brand has grown with them along the way.
McDonald's UK nailed this approach with a 2020 holiday ad titled "Inner Child." Telling a relatable story sure to tug at parents' heartstrings, the animated ad follows a mom trying to connect with her teen son. The boy is more interested in his games and devices than their Christmas traditions, until a McDonald's meal manages to turn the tide. In its short runtime, the video manages to make a heavy emotional appeal to parents of older children—all as a cover of Alphaville's "Forever Young," a hit song all Gen Xers will know, plays in the background.
While there may be no "typical" family in the U.S. today, that doesn't mean today's parents are without their tendencies. With the insights and strategies that we've covered above, businesses can adapt their approach to meet the needs of today's parents and deliver real value for their customers, no matter what their family looks like.
---