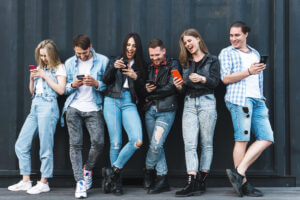 Right off the bat, let's make this clear: you should be answering all customer queries, no matter which messaging channel they come through. But to streamline your omnichannel messaging strategy, you have to prioritize certain channels over others in key situations. 
If you have an omnichannel messaging strategy, it's likely that you're using several key channels:
Native SMS

Apple Messages for Business (formerly Apple Business Chat)

Google's Business Messages

Facebook Messenger

WhatsApp
Each of these messaging channels is unique, offering its own strengths for your team to capitalize on. Focusing engagement strategies on certain channels over others is a great way to boost customer engagement overall. 
Read on to learn the best way to engage customers through each of your messaging channels. 
Send Fresh Content Through Business SMS
Business SMS is a powerful channel. Once customers opt into your SMS services, you can reach out to them whenever you need to. This isn't always the case with messaging channels. For example, Apple Messages for Business, Google's Business Messages, Facebook Messenger, and WhatsApp don't allow your business to reach out to customers who haven't first messaged your business with a question or request.
Of course, you'll want to text customers with content that offers value—and you'll want to send it sparingly. Otherwise, your customers might unsubscribe from your SMS lists and you won't be able to send them anything in the future. 
Use business SMS to send all of your original SMS marketing and engagement content, such as:
Business updates

Order and delivery statuses

Event invitations

Polls or surveys 

Product announcements

Season's greetings
Business SMS has a 98% open rate, which means that customers are likely to open and read this content. Plus, it's easy for them to reply through their native SMS apps if they feel like interacting with your brand. 
Answer Customer Queries Through Apple Messages for Business and Google's Business Messages
As we mentioned at the beginning of this blog post, you want to answer customers' questions and requests no matter which channels they send them through. But that doesn't mean you can't emphasize that customers should send their questions through certain channels over the others. 
Apple Messages for Business and Google's Business Messages are built specifically for customer-to-business communication. As such, your business can customize the channels with your branding, such as your logo and color palette. Branded experiences make these channels superior for answering customer queries. Customers can access these channels when they're searching for your brand through search engines or their map apps. 
Encourage customers to send queries through Apple Messages for Business and Google's Business Messages by:
Customers will thoroughly enjoy the Apple Messages for Business or Google's Business Messages experience. Your team will be able to provide a streamlined, branded customer experience complete with rich links and in-app secure purchase abilities. 
Follow Up After Queries with Facebook Messenger and WhatsApp
Facebook Messenger and WhatsApp are popular, casual messaging apps. They're a great tool for answering questions customers have before they visit your stores or make purchases. They're also a channel your team should send follow ups through. (It's important to note that you should send SMS follow ups to customers who query your brand through business SMS.)
With Apple Messages for Business and Google's Business Messages, your team can't continue a conversation once customers have ended it. (You can reach out to those customers through SMS if they've opted into your SMS service previously.) With Facebook Messenger and WhatsApp, your team can follow up with customers right within the channel, asking customers whether their orders turned out well or if they have more questions. 
Use Facebook Messenger and WhatsApp to:
Circle in on resolved queries

Ask whether orders or services were to the customers' liking

Send feedback surveys
Keeping these follow-ups within a single channel makes it easy for customers to recognize and continue a conversation. They'll be more likely to respond, leave feedback, and leave the conversation feeling like your team really cares. 
Want to learn more about omnichannel messaging? Check out our blog.