As businesses start to see the powerful potential of text messaging, they are also learning that it can have serious limitations. Text messaging grabs customer's attention like no other format, and response rates can top 80%. So what's not to like?
In many cases, the answer is "plenty," a recent IDG/Heymarket survey found.
When asked what features they wanted from a text messaging service, over half of business users said they wanted the ability to have a second number for their smartphone.
Good idea. Keeping personal and businesses messages separated is a must, as Heymarket founder Amit Kulkarni learned after getting a text message from a merchant he'd bought a coffee table from. The text read, "Sorry about last night, I was really drunk but it was good to see you."
Say WHAT?!?
If you want to stay in business, you can't risk sending customers messages like that.
With Heymarket's text messaging platform, it can't happen. You send messages from the app, but customers receive them as regular texts. That keeps your personal life from leaking into your business. It also keeps sensitive or private customer information out of your personal feeds.
Half the business owners in the survey said they wanted a texting service that doesn't require customers to download anything. People love their personal apps, but if they have to download one just to communicate with a business, you can kiss them goodbye. Heymarket just uses its built in SMS system.
Survey participants said they want to reach a group of customers with a single, yet personalized text.. They would like the ability to automate text message sending while using custom templates, just like they would with email.
Then why not just stick with email? Because customers won't open it. Texts, on the other hand, are read 98% of the time.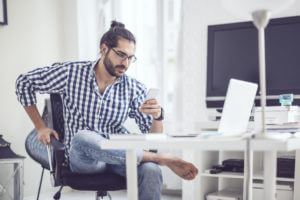 Accustomed to apps loaded with bells and whistles, business owners also desire other features from text messaging. They want a solution that allows them to make appointments, set reminders, add co-workers to conversations, and store transcripts. They want the ability to integrate with contact and calendar apps. They want to see who opens what, and take notes. They want to share photos and videos, not just text, and them to load fast.
Those are some pretty heavy demands, but Heymarket's enterprise text messaging solution can handle them all.
An interesting fact that emerged from the study is that when it comes to text messaging, businesses and their customers pretty much want the same things. All the features we just mentioned were requested by non-business smartphone users, too.
That means they'll appreciate your texts more if they're personalized. They'll be more likely to look at your photos and watch your videos if they don't have to wait around for them to load. They'll enjoy the convenience of setting appointments by text messaging instead of being interrupted by a phone call. They'll respond to you more frequently and faster, building the kind of rapport that leads to sales.
With text messaging, a business is personalizing the messages and building relationships with their customers. It's an incredible resource for businesses that use it the right way. But it can backfire on those who don't. Before you plunge into messaging, make a list of the features you desire most, and make sure you find a service that includes them.