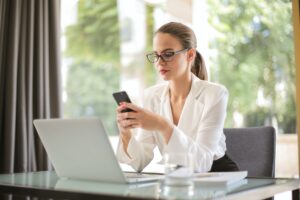 COVID-19 accelerated a trend that was already growing more popular: businesses going remote. In some cases, brick-and-mortar stores are transforming into eCommerce businesses. In other cases, in-store employees are working online more often. If your business has just started the transition—or if you're in the middle of it—you may feel a little overwhelmed. That's why you need a texting service for business. 
A texting service for business can help your team both engage customers from afar and coordinate as you work from home. It's a great solution for navigating pandemics—and the long-term trend of online shopping. 
Read on to learn how to use a texting service for business while transitioning to a remote environment. 
Engaging Customers from Afar with a Texting Service for Business
One of the biggest challenges of moving from a brick-and-mortar store to an eCommerce business is engaging customers during your transition. You need to let them know about your new operations and products—and transform your store-based advertising into online content. A texting service for business makes it easy to keep customers updated. 
Send Store Updates Quickly
While your team is transitioning, there's a good chance that you'll run into some surprises. Maybe you need to pause shipping for a few days. Maybe you need to extend your closing sale. Regardless of the update, a texting service for business is the fastest way to let your customers know. Texting's 98% open rate makes it the perfect channel for sending content that customers need to read quickly.
Schedule Engaging Content
Customers go shopping to see beautiful store displays and chat with friendly retail assistants. If that option isn't available anymore, you'll have to connect with them other ways. For example, you can regularly send valuable, interactive content. This may include polls, collaboration announcements, season's greetings, competition announcements, and more. SMS drip campaigns make it easy to schedule out this content, so you can be sure you're connecting with customers even as you transition your store. 
Automatically Following Up on Orders
Customers will still be placing orders as your team transitions, but that doesn't mean you can drop the ball on the customer experience. You still need to reach out after each purchase to ensure customers are satisfied. A texting service for business simplifies the process. Your team can set up an automation that immediately reaches out to customers when their CRM custom fields switch to "Order Delivered." (You'll need to set up a simple SMS integration, too.) 
Managing a Newly Remote Team with a Texting Service for Business
A texting service for business doesn't just help your team stay in touch with customers. It can help your team coordinate, too—both on customer queries and other operational tasks.
Collaborate on Customer Queries
A texting service for business helps teams coordinate just like they would in person. Customer texts (and messages from channels like Facebook Messenger, WhatsApp, Apple Business Chat, and Google's Business Messages) arrive in a shared inbox. Permissioned team members can select messages and reply. Alternatively, managers can assign team members chats. If any team member needs help on a message, they can use private comments to loop coworkers in. 
Manage Shifts
Your customer service or warehouse teams may work on shifts. If your team doesn't meet in person as much anymore, it may be more difficult to manage it. A texting service for business simplifies the process. You can simply create a list with shift members and send them SMS shift notices. You can also schedule out reminders. If any team member needs to discuss a change, they can reply and text with you privately. 
Coordinate with Third-Parties and Collaborators
When your team transitions to remote work, you may miss meetings and drop-ins with third-party vendors and business partners. A texting service for business makes it easy to have real-time conversations with your partners without having to ask them to download your company's internal chat app. With the ability to chat with your third-party partners at the drop of a hat, you'll form stronger customer relationships than ever before.
Want more tips for transitioning to a remote environment? Check out our blog.