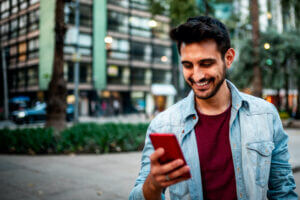 Business text messaging is already a channel that your customers love. It's a fast and convenient way for them to reach your team. Even though any conversation over business SMS has this strong head start, your team should try its best to make every conversation as positive as possible. 
Read on to discover 5 must-haves for a positive business text messaging conversation. 
Straightforward Opt In and Opt Out Language
According to federal regulations (namely the TCPA), customers must opt in to your SMS services before you begin texting them. They can either text in a special keyword or check a box on a web form. They must also be able to opt out by texting a simple keyword at any time. 
Your opt in and opt out language should include: 
Explicit instructions for opting in and out (which keywords to use)

A description of the content you intend to send

A timeline for how often you expect to send texts
Empowering customers to opt in isn't just your ticket to compliance—it's also good for your SMS services. Opted in customers are all primed and excited to receive your content, meaning you'll have high engagement rates. 
An Immediate Auto Response
You should have at least two auto replies: one that activates during your business hours and one that activates after your business hours. Most businesses have an after-hours auto reply. But the during-hours auto reply is just as important. 
Your during-hours response should include a greeting, your business hours, your average response time, and a reminder that customers can opt out at any time. Sending this information as a response to every incoming message lets leads and customers know that:
Their message was received

They texted the right number

They only need to wait a certain amount of time for a reply
Transparency is a great start to any business text messaging conversation. Customers will begin their interaction with your brand knowing that they can expect fast replies and honest estimates. 
A Quick Connection with a Human
Your leads and customers will be satisfied with your auto reply, especially if they sent their message after your business hours. But try to answer incoming messages as quickly as possible. The faster you can connect with customers, the more quickly you can resolve their queries and boost their satisfaction. 
To answer customers as quickly as possible, your team should:
Set up a messaging channel integration so all messages (including those from both native SMS apps and over-the-top apps) will arrive in a single, centralized

shared inbox

Consider

assigning

each incoming message to all team members, so everyone will be aware when new chats arrive

Create

templates

for frequent responses, such as a list of product prices or return information, so you can send those messages without rewriting them repeatedly
Ensuring your team quickly starts person-to-person conversations boosts customer satisfaction, helping your team build customer relationships that last.
A Conversational Tone in the Chat
How your team conducts business text messaging conversations is important, too. Your agents converse through a channel that doesn't allow face-to-face or voice-to-voice contact. To create a cheerful, conversational tone, they need to choose what they write carefully. 
Your team should consider the following to achieve a lighthearted, conversational tone:
Short sentences with clear punctuation (e.g., "Nice to hear from you!")

Polite phrases (e.g., "Thank you for sending me that!")

Emojis and GIFs where appropriate (e.g., "Yes, the cafe is open at 7am tomorrow. Come grab a cuppa! ☕") 
The right tone can help customers feel comfortable texting your team, encouraging them to reach out as soon as they need help in the future. 
Accurate (and Plenty of) Customer Information
Leads and customers appreciate convenience. If they've made a purchase or connected with your team before, they don't want to have to remind you. With help from SMS integrations, your team can access and use accurate customer information right within your business text messaging platform. 
Your team needs access to the following data for each conversation:
Accurate custom fields, updated automatically via an SMS CRM integration (e.g., Salesforce or HubSpot)

Past customer conversations via both text and email, updated automatically via a customer service platform integration

Customer order information, updated automatically via an eCommerce platform integration
With this data on hand, your team can tailor each customer conversation, improving the customer experience all around.
Want more tips for successful texting? Check out our blog.