Gidder is an on-demand personal errand service company based in Atlanta. Customers use Gidder to complete everyday errands such as dog walking, grocery shopping, and laundry at one consistent and affordable hourly rate. Their customers are primarily busy, suburban households and they contract vetted service providers to complete customer errands.

Prior to using Heymarket's text service for business, Gidder used another platform to communicate with both customers and service providers before, during and after each errand. There were multiple issues with the platform that hampered efficiency, primarily limitations around team and administrative structure, message history visibility, and a complex pricing model.
Gidder now uses Heymarket to effectively stay in touch with customers throughout the entire errand process. Gidder administrators are able to view all messages between Go Gidders (service providers) and customers in real time, enabling them to ensure customer satisfaction and step in when assistance as needed. Go Gidders also have access to the shared templates created with the Gidder Heymarket account, which make it easier for them to send standard customer messages on the go: booking confirmations, errand start notifications, status updates, errand completion notifications, and charge receipts.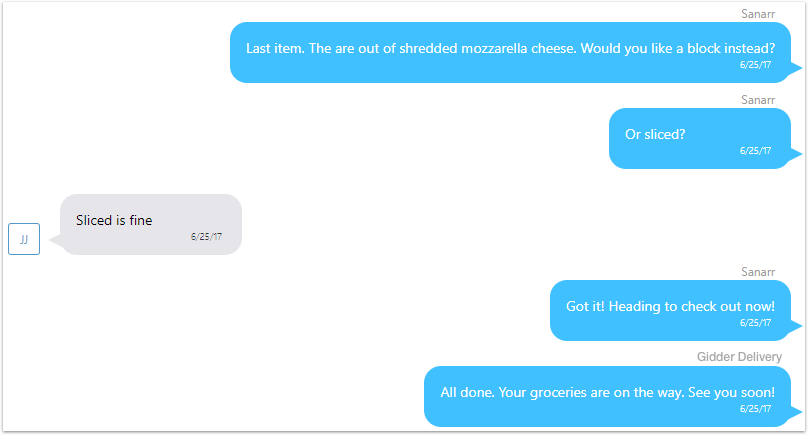 Gidder also prefers to use Heymarket because of the consistent monthly fee per inbox. Their previous platform charged per user and for every message sent with character limits per message, causing their costs to vary month to month. Heymarket's set fee structure allows Gidder to share their inbox with as many Go Gidders as needed without incurring additional charges, so they can scale their business, but still control costs. Gidder can also instruct their admin staff and Go Gidders to communicate with customers freely, without the worry of exceeding their monthly communications budget.
Since using Heymarket, Gidder has received higher ratings from customer reviews for the convenience and ease of use they are able to provide with a seamless text platform. Go Gidder engagement with customers has also increased because service providers find the text platform  simple to operate while on the go and they have greater access to support from admin staff while running errands.

By using text messaging during the entire errand process, customers and service providers experience the convenience and ease of getting help with their errands that Gidder intends.