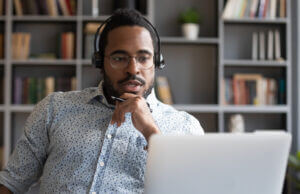 As customers use messaging more—and phone calls less—customer service teams are changing their strategies, too. They're adopting tools like business text messaging to connect with customers through their favorite messaging channels.  
While teams that haven't yet taken the leap may be wary of adding another communication channel to their arsenal, there's good news on the horizon: SMS customer service isn't just a customer favorite. It offers customer service teams a lot of benefits, too. 
In fact, there are 5 key ways business text messaging helps customer service departments. Let's dive in. 
Route Messages Quickly through Multiple Channels
Today's customers expect real-time answers to their questions. To help customers get the right answers as quickly as possible, your business has to evaluate each incoming query and route it to the most efficient channel and the most knowledgeable agent. Many customer service teams use interactive voice response (IVR) software to route customers. But with messaging, that can (thankfully) be avoided.
Business text messaging platforms empower your team to create a variety of routing setups. The platforms accept messages from a variety of platforms, allowing team members to easily answer messages or direct them to the correct channel. For example, your team can:
Allow customers to message from specific entry points (e.g., a badge on a website, or maps app, or a phone number)

Have customers interact with chatbots or auto replies initially, then use keywords to automatically route them to a relevant agent based on their intent and initial messages

Ask customers to text a business SMS number, which automatically assigns an agent to a text based on keywords

Encourage customers to message customer service agents, then accelerate to a call when needed. 
While business text messaging is a newer real-time channel than phone calls, it still offers a wide variety of routing options. The right routing setup will allow agents to answer customer questions faster than ever before and seamlessly handle more customer conversations.
Improve Resolution Times While Maintaining Chat Quality
Phone calls are still a popular customer service channel, but they consume a lot of your team's resources. Agents have to focus on calls one at a time. While agents can manage multiple emails at once, customers often take a while to reply, extending resolution times. Business text messaging provides the best of both worlds by allowing agents to handle multiple chats at once and improve resolution speed. 
Business SMS is a fast channel. After customers text in, it's likely that they'll respond quickly to your replies, empowering agents to close queries within minutes. Texts are:
Efficiency features expedite resolutions further. For example, agents can see all incoming texts in a single shared inbox, where they can either select the chats they'd like to answer or have them assigned by a manager. Efficiency tools empower your team to answer messages in an organized format, streamlining the query pipeline. 
Focus On Customers, not Repetitive Tasks
Agents aim to create lasting bonds with customers, building brand loyalty. But with so many repetitive tasks on the docket, they can get bogged down. Business text messaging platforms help your agents reduce the number of small tasks they have to complete day after day. 
For example, your team can:
Create

templates

, copying frequently-used texts to expedite replies

Schedule

follow-ups, using templates with custom fields to keep that personal touch

Automate

initial responses, using keywords to detect commonly asked questions
Minimizing the time agents spend on repetitive tasks empowers them to focus their attention on making connections with customers. 
Maintain Strong Post-Resolution Relationships with Ease 
Customer service teams often send follow ups to ensure that resolutions are still to customers' satisfaction. These follow ups are rarely made through phone calls, as customers are often too busy to answer phone calls from businesses in the middle of the day. Agents usually follow up through emails, which have a low 20% open rate. Business texting has a high open rate of 98%, which ensures customers will at least open—if not reply to—your messages. 
It's easy for agents to follow up with customers through business text messaging, too. They can:
Schedule follow-ups in advance 

Use custom fields and

merge tokens

to personalize mass follow-ups

Create

SMS drip campaigns

to regularly check in until customers respond
These tools make it easy to let customers know you care about them even after they've made purchases, boosting overall customer satisfaction.
Use Data to Boost Team Performance  
Most enterprise-grade communication channels come with reporting tools, and business text messaging is no exception. A top-notch business texting platform will provide your team with a built-in reporting feature.
Your team can use:
Easy-to-navigate charts and graphs to identify trends

Metrics, like response time and resolution rate, to identify room for improvement

Exported data to compare your SMS customer service metrics to other communication channels
With robust reporting, you can identify where your team needs improvement. Then, you can measure your efforts to become an even better SMS customer service team. 
Want to learn more about SMS customer service? Check out our resource page.