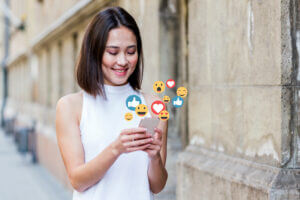 If you're like most businesses, there's a good chance you moved many of your operations, like customer service, online after COVID-19. But now that you've got contactless tools like business text messaging set up, you may be wondering how you can use them to engage customers regularly. That's why we've rounded up some tried-and-true SMS customer engagement tactics.  
The key to successful SMS customer engagement is authenticity. No matter which tactic your team decides to use, it's got to seem original and on-brand. For example, if you start an SMS trivia series, you need to tailor it to your industry. Each SMS trivia text you send needs to have a personal touch, too. You can easily achieve that with tools like custom fields, which your business text messaging platform can draw upon to insert key details (e.g., first names) into each outgoing message.
Read on to discover 5 top SMS customer engagement tactics that your teams can use to stay close with customers. 
Start an SMS Trivia Tradition
Nearly everyone likes trivia. It's a great way to learn fun facts—and test how much you know. SMS trivia is one of the best ways to entertain customers while keeping your brand on their minds. 
The trick to your SMS trivia service is ensuring it's fun, but relevant to your brand. For example, you could offer plant- or gardening-related trivia if you run a nursery. You could offer fashion-related trivia if you run a clothing store. 
After choosing your theme, you'll have to decide:
How often you'll run trivia sessions

The opt-in process for customers

Whether you'll offer a prize or recognition for winners
Once you determine the details of your SMS trivia program, publicize it on your website and social media channels. As word gets out, you'll start to attract customers and potential customers who are interested in participating. 
Play Branded Games
There are plenty of other SMS games that your teams can play with customers. In fact, as long as the games are appropriate (think: family-friendly), then the sky's the limit. 
Just ensure your games are branded. For example, you could create pet-related would-you-rather questions if you run an animal grooming business. You could create brand-color I-Spy quests no matter your business's logo colors. 
When choosing a type of game to play, consider:
Games that require customers to send back photos (e.g., spot the X)

Word games (e.g., anagrams)

Puzzles (e.g., riddles)
As with SMS trivia, you'll need to choose how often you'll host your games, how customers can opt in, and whether you'll offer prizes or recognition for winners. 
Set Up a Friendly Competition
Nothing gets people invested like a friendly competition. With help from a business text messaging platform, your team can easily receive videos and photos of competitors, then text the winning video or photo to all participants. This creative SMS customer engagement tactic is sure to attract a lot of attention.
Again, your competition should be relevant to your brand. For example, you could host a funny exercise video competition if you run an athletics store. You could host a best-in-show flower arrangement picture competition if you run a flower shop. 
When you're deciding on SMS competition details, consider:
Talent shows (e.g., a song-writing competition)

Best possession (e.g., most unique X)

Voting competition (e.g., what product can earn the most votes?)
No matter the competition, be sure to offer winners the opportunity for promotion on your website or social media accounts. These small gestures can attract more people to your program and lead to increased customer satisfaction. 
Send Product Tips and Tricks
While interactive games and competitions can be enticing, some people don't have time to engage in those kinds of time-consuming activities. That's where regular tips and tricks come in. 
Sending customers genuinely valuable product or industry tips can be appealing. However, you have to ensure that these tips are genuinely useful or interesting. Focus on customer service for these texts. 
For example, you may consider sending:
Unique (or fun!) product use cases

Industry fun facts

Product upkeep tips
Sent on a regular schedule, these small tips and tricks will engage your customers and help them get the most out of your product. Remind customers that they can text back with follow-up questions. You'll be sure to get inquiries, which can lead to stronger connections between your brand and your customers. 
Ask for Feedback
Asking for feedback is one of the easiest SMS customer engagement tactics. Customers want to feel like you care about their opinions, and seeking them out is a great way to do this. 
Business text messaging is effective for collecting customer feedback and requests. The channel is convenient for customers, which is one reason why texts have a response rate of up to 80%. Unlike other channels, it's pretty likely that customers will send you a response through SMS. 
When you ask for feedback, be sure to:
Emphasize your desire for honesty

Ask after a purchase, service, or customer service interaction

Include an easy-to-answer feedback survey within the text
Asking customers for feedback is a great way to engage them—and improve your channel for the better.
Want SMS customer engagement tips tailored to your brand? Reach out to our team.