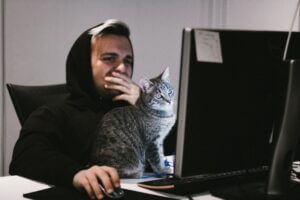 When the business world is running as per usual, SMS automations don't need to be regularly updated. In fact, their strength is that they take over repetitive tasks for teams without requiring constant oversight. During COVID-19, SMS automations need to be reviewed to account for the new business environment.
Because the business environment is constantly changing, whether it be due to new social distancing recommendations or customer needs, SMS automations can become out-of-date quickly. However, that doesn't mean that they aren't still useful. Your teams just need to spend a little more time reviewing them.
Let's dive into the 5 SMS automations to review during COVID-19.
Adjust Your Templates
While they aren't necessarily automations, templates are popular enough with most teams to deserve a mention. Your team has probably created multiple templates that they can quickly select and tweak when sending common messages to customers. 
During COVID-19, you can make two key changes to your templates:
Add COVID-19-Specific Templates 
Customers might send in questions about your current operations status or sanitation practices. Have some SMS texts ready to respond with your most up-to-date information. You might also want to create new follow-up templates that address appointment rescheduling, future orders, feedback channels, etc. 
Tweak Old Templates
Your old templates might need a makeover. For example, greetings today revolve around health. Your texts should start with "I hope you're healthy and well!" instead of "I hope you're enjoying the spring!" 
Update Auto-Replies
Auto-replies often go unchanged. Frankly, they don't need to be reviewed unless your main operations have been drastically updated.
Given the current situation, a lot of aspects of your operations have probably changed. You might need to update your:
Store or office hours

. There's a good chance that your store or office has new hours. In some cases, it may not even be open. Your auto-response is a good place to indicate these changes.  

Communications hours

. As your store or office hours have changed, so have your customer service hours. 

Expected response time

. Many stores and offices are experiencing a high number of customer

questions

. This is a good place to mention when customers can expect a response from your team. 

Response tone

. As with your templates, you might want to tweak your auto-response tone. A greeting like "Hope you are well!" will go a long way in this environment. 
You may even want to consider creating an entirely new auto-response that pre-emptively addresses COVID-19.
Review Trigger-Based SMS Automations
With advanced SMS automations, businesses can easily arrange triggers that send texts and complete other actions immediately. These should also be tweaked during the COVID-19 pandemic.
For example, you may have your platform set to recognize opt-in keywords, add customers who text in those keywords to a list, and send a welcome email. Be sure to review these types of SMS automations for:
Outdated templates (use new templates if possible)

"Add to list" functions for old lists or paused SMS drip campaigns

Contact syncing (e.g., through Salesforce), and agent assignment if any protocols around lead generation or management have changed
You might want to create new trigger-based SMS automations. For example, customers who text in with COVID-related keywords should be sent an informative COVID-19 text and have their interest marked in custom fields. 
Tweak (Or Pause) SMS Drip Campaigns
SMS drip campaigns are useful for everything from marketing messages to feedback requests. But in many cases, these SMS automations may need to be tweaked—or paused. For example, you might want to adjust:
SMS Marketing Campaigns
In a time of turbulent economics, marketing might be an important method for getting the word out about your product. But if you do choose to continue an SMS marketing campaign, be careful. Avoid mentioning discouraged activities, like parties or travel. Focus on indoor activities and stress relief. 
Conversation Follow-Ups
Your sales team might add people who recently purchased goods or started conversations to a follow-up campaign. However, now is not the time to send multiple follow-ups. If a customer doesn't reply after one text, you can assume they're a little too busy to engage for some time. 
Feedback and Review Requests
Customer service teams are eager to hear what customers think of their service or your product. However, repeat feedback and review requests might not go over well just when everyone is experiencing additional stress. Consider saving those requests for a time in the near future.
Re-Think Internal Assignments
Your team might have chosen its auto-assignment settings before the current work-from-home era. Now, it's time to make sure those settings still work for your team.
Your team members can either:
Have each chat they click on be auto-assigned to themselves

. This reduces the amount of notifications each team member receives. 

Have each chat assigned to everyone

. With this setting, each team member will receive notifications from all chats. 
While the choice you make depends on how your team functions, you may consider having each chat assigned to everyone. This way, team members can be sure messages don't slip through the cracks if a coworker has to manage an unexpected distraction at home. 
Need more help adjusting to COVID-19? Check out our COVID-19 guide.