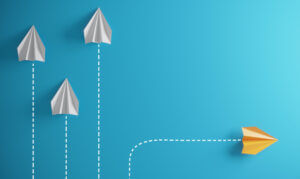 2020 was a year of change for everyone—and every industry. Business text messaging was no exception. 
At the beginning of the year, business texting services encountered plenty of expected changes, from additional messaging channels to a newly active customer data regulation. From the second quarter of the year onward, business texting solutions experienced changes no one could have predicted. 
Read on to discover the three biggest ways business SMS changed in 2020. 
Business-Focused OTT Messaging Channels Opened Up 
Over-the-top (OTT) messaging channels are messaging channels that utilize existing internet connections. Consumers download these OTT messaging apps on their smartphones. They often use them on their computers. They function similarly to native SMS apps, but send data over the internet instead of through cellular networks and have much more functionality. 
These channels are popular because they're often free. They also offer different perks. WhatsApp, for example, simplifies international communications, and Snapchat offers fun filter overlays and short videos.
Businesses have had some access to these channels before 2020. For example, Facebook Messenger for Pages and WhatsApp both allowed consumers to connect with businesses from an early stage. 
In 2020, business-focused OTT messaging channels became the norm. We saw:
These changes solidified the role of messaging in business-to-consumer communications, making business texting solutions a more popular choice for companies. 
New Data Rules Came Into Play
The California Consumer Privacy Act (CCPA) was passed in 2019, but became active in 2020. While it technically only affects Californian consumers, it also affects, by extension, the businesses that interact with them. 
California created the CCPA to boost privacy rights and consumer protections for California residents. It affects any business that collects consumers' personal data, does business in California, and:
Has annual gross revenues above $25 million;

Buys or sells personal information of 50,000 or more consumers or households; or

Earns over half of its revenue from selling consumers' personal information
Companies already using business SMS to communicate with customers in the EU didn't have to make many changes due to this regulation. The CCPA is similar to the GDPR in that it requires that businesses implement security procedures for consumer data protection.
Businesses that hadn't yet implemented business SMS policies complying with the GDPR had to:
Create a process for customers to submit data access requests, including, at a minimum, a toll-free telephone number

Update official privacy policies with newly required information, including a description of California residents' rights

Avoid requesting opt-in consent for 12 months after a California resident opts out of your texting program 
These changes brought many businesses up-to-date with compliance laws, paving their way to comply with the GDPR, too. Plus, more stringent data policies helped businesses show customers that they prioritized their privacy, strengthening customer relationships. 
Contactless Communication Became a Necessity
Business texting services expected messaging channels to open up and the CCPA to pass. But they didn't expect COVID-19.
COVID-19 forced stores to shut their doors, if only temporarily, and rethink how they interacted with customers. It required them to find a contactless channel that functioned much like real-time, in-person conversations. Enter business text messaging. 
With help from business texting solutions, companies have been able to:
Quickly get out the word about operational changes

Answer customer queries about new safety procedures

Coordinate order pickups

Promote new services and products through conversational marketing
Adopting business text messaging was a necessity for some companies in 2020. In 2021, we expect to see more companies adopt the channel after they realize exactly how effective it is. 
Want to use business text messaging in the new year? Try our text service for business.