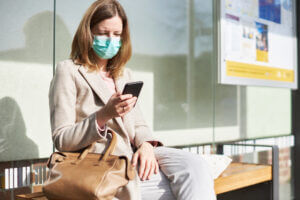 COVID-19 disrupted every industry. Some businesses had to move their operations online for the first time, while others had to amp up their online infrastructure faster than they'd ever expected. Companies with business SMS on their side were able to adapt more easily than others. 
Three of our customers pivoted their internal operations and customer service with help from business SMS. These businesses scaled their messaging use almost immediately, and are still reaping the benefits. 
Read on to learn how they did it—and what business SMS helped them achieve. 
TeamBuilding
Now that remote work is the norm, TeamBuilding's mission is more important than ever. They facilitate fun team bonding events for small to large teams. Before COVID-19, they offered in-person events. Now, they focus primarily on online team building opportunities. 
Pivoting to virtual events required a lot of internal coordination. TeamBuilding's several-member operations team had to identify a way to coordinate logistics for hundreds of events with facilitators based around the world. For global virtual events, facilitators had to host teams in dozens of different time zones.
TeamBuilding's operations team decided that business SMS would be the easiest way to manage their facilitators. They immediately began using key features to streamline their operations. Today they still use:
Their

shared inbox

to connect with event hosts, so any internal team member can pick up a conversation where another team member left off

Lists

to send many personalized texts at once to regional event hosts, saving critical time

Scheduled messages

to coordinate with team members in Asia and Europe right on time, without pinging phones in the middle of the night
As Michael Alexis, the TeamBuilding CEO, says, "In light of our transition to virtual events, with a team more distributed than ever before, Heymarket has been invaluable in connecting with our team of facilitators around the world."
Metabolic Research Center
Metabolic Research Center began using business SMS in the summer of 2019. It was a great tool for coaches, who used it to connect with their weight loss clients when they couldn't make it into centers for in-person visits. Once COVID-19 hit, it became their primary communication tool. 
Scaling business SMS was easy for Metabolic Research Center's coaches. They simply began messaging their clients more than they did before. Clients used business SMS for even more customer service tasks than they had prior to the pandemic. They could text to coordinate a product curbside pick up or get advice about a new workout regime. Today, coaches still use features like:
SMS campaigns

to send clients regular encouragement, without having to send every text individually

MMS capabilities to text emojis and GIFs, so they can motivate clients at home

Shared inboxes

to streamline messaging, so each center can focus on their own local incoming messages

The Facebook Messenger integration to centralize incoming messages, so coaches can reply to both texts and Facebook Messages in their shared inbox
Nicole Wassynger, Metabolic Research Center's digital strategist, noted that these tools have made the transition to online coaching easier than ever. As she puts it, "Heymarket helps us connect with our clients and service them better." 
Methodology
Methodology is another long-term business SMS user. The meal delivery company used business SMS to boost customer response rates so they could ensure customers were reviewing weekly menu choices and choosing those that they would enjoy. When COVID-19 hit, they began using it to help coordinate no-contact deliveries, too. 
Again, pivoting was easy since Methodology already had business SMS infrastructure set up. They simply began texting clients with detailed delivery notices, so clients could know right when deliveries arrived. They used features that they still rely on today, such as:
SMS campaigns

that automatically send notifications to customers once orders are processed or shipped, so customers are prepared for delivery notices

Templates

of commonly used texts, so delivery workers can send messages quickly once packages are ready to drop off

The

shared inbox

to manage incoming messages, so they can assign incoming texts to the appropriate nutritionist or associate
Business SMS has helped streamline the transition to contactless deliveries. As CEO Julie Nguyen notes, "A higher response rate tells it all. Customers simply respond better to text than email."
Want to hear more about how to pivot to remote operations? Check out our blog posts.